Ocean Blue Grain Binding Covers
Ocean blue grain covers have a brighter and richer blue color than their sky blue cousins. However, they are made of the same uncoated paper and have the same rich leather embossed pattern. Ocean blue grain covers are available in a variety of sizes and if there is a particular size that you need we can easily cut it for you since we make these covers here at our Hillsboro Oregon facility. They are available pre-punched to save time or you can punch them yourself with almost any binding system. They can even been ordered with windows to allow the title of your report to show through. Check out the options below and feel free to give us a call if you have any questions.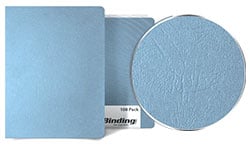 90lb ocean blue leather grain covers
Available in 8 different sizes
Can be ordered unpunched or 8 various punch styles with die-cut windows
Comes in packs of 100

Available in six different foil colors
Available in 7 different cover colors
Logo or text to be imprinted can either in brilliant or matte finish
Logo size can be 1" x 5" , 2" x 5" or 5" x 5"