Brown Regency Leatherette Covers
Haven't you heard, Brown is the new Black! These awesome brown leatherette binding covers provide an elegant look and feel for your documents while matching your corporate colors (or the color of your favorite brand of chocolate bar). Finished with a vinyl kidskin coating that is designed to feel like leather these paper covers are easy to punch, flexible and available in a wide variety of colors and sizes. You can match them with a brown coil or plastic comb and they work with virtually any binding system. Try them today.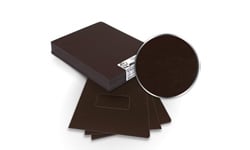 17pt brown leatherette covers
Available in 12 different sizes
Can be ordered unpunched or with 8 various punch styles
Comes in packs of 100

Available in six different foil colors
Available in 10 different cover colors
Logo or text to be imprinted can either in brilliant or matte finish
Logo size can be 1" x 5" , 2" x 5" or 5" x 5"