Sorry, but Champion 305X Manual Backgauge Electric Paper Cutter is no longer available to buy.
We think you might like one of these instead:
List Price: $10,895.00

Your Price: Call for Quote 1-800-944-4573
Champion 305X Manual Backgauge Electric Paper Cutter
The Challenge Champion 305 X continues our well known excellence for innovation, reliability and durability. The cast iron arch, base, and table are at its
Product Details
30-1/2" Cutting Width, 4" Clamp Opening
Hydraulic Clamping & Cutting
Adjustable Clamp Pressure
Manual Foot Pedal Clamping
Backgauge Position Indicator
Line-Light Cut Position Indicator
Lighted Work Surface
False Clamp Plate
Cast Iron and Steel Construction
Item Specifications
Maximum Cutting Width: 30-1/2" / 77.5cm
Minimum Cut: without false clamp plate 3/4" / 19mm with false clamp plate 2" / 5cm
Maximum Cut Depth: 30-1/2"/ 77.5cm
Clamp Opening: without false clamp plate 4" / 10.2cm with false clamp plate 3-3/4" / 9.5cm
Clamping Method: Hydraulic and Manual
Maximum Clamping Force: 5000 lbs / 2200 daN
Backgauge Control: Manual
Table Space in front of knife: 25" / 63.5cm
Table Space behind knife: 30-1/2" / 77.5cm
Table Height: 36-1/2" / 94cm
Overall Height: 58-1/2" / 147cm
Overall Width (with side tables): 78-1/2" / 200cm
Overall Width (without side tables): 48-1/2" / 123cm
Overall Length: 70" / 178cm
Mounting Dimension: 41-1/2" / 105cm
Door Pass-through: assembled 49" / 124cm
Door Pass-through with table/treadle removed: 42" / 106cm
Door Pass-through with table/treadle/power unit removed: 29" / 74cm
Net Weight (approximate): 2550 lbs / 1157 kg
Shipping Weight (approximate): 2750 lbs / 1247 kg
Standard Motor: 5 H.P. Three Phase, 60 Hz, AC 208/230 Volts, 25 Amps (service size 40 Amps) or 460 Volts, 11.5 Amps (service size 20 Amps) U.L. Listed
Warranty: 1 Year Manufacturer Warranty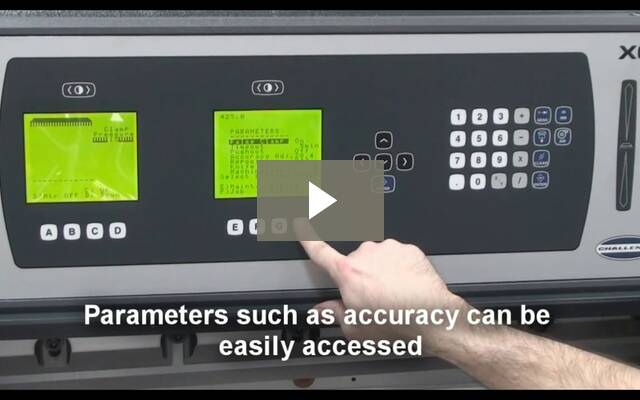 Transcript:
Champion 305 Hydraulic Guillotine – The Challenge Machinery Company, www.challengemachinery.com. For well over a century, Challenge has manufactured quality paper cutters right here in the U.S. The ...
Read More
Champion 305 Hydraulic Guillotine – The Challenge Machinery Company, www.challengemachinery.com. For well over a century, Challenge has manufactured quality paper cutters right here in the U.S. The Champion 305 is yet another example of this tradition of excellence. It all starts with our cast-iron base, arch, and main table. The inherent strength of our center-point design has proven itself since 1962. Powerful hydraulics features a large capacity actively cooled storage tank. High-visibility cut line light. Floating backgauge fingers. Convenient handwheel for one-hand backgauge movement. Slot closure device reduces debris from leadscrew. Swift backgauge positioning. Safe low-pressure pre-clamping meets all ANSI safety standards. Maintenance-free adjustable knife gibs. Simple and intuitive control panel layout. Two screens display added job programming information. Direct data entry method. Perform mathematical operations. Fractional data entry. Metric data entry. Electronically-adjustable clamp pressure. Air table. The XG controller is very powerful and feature-filled. Multiple menu languages. Sensor diagnostics menu. Parameters such as accuracy can be easily accessed. Resettable maintenance reminders. The XG console is also very easy for novice operators. Store up to 99-jobs / 9,801 total steps easily. Give your job a name. Enter job steps directly. Add turn indicator prompts. Adjust clamp pressure as a step within the job. Automate complex job creation with sheet division, label cutting, and cut & record programs. Simply provide the dimensions requested, select the layout which matches your job, your job is now programmed. Graphic representations guide the operator through the job. Optional 10.4" (26.6 cm) color touch-screen control. The Champion 305 maintains its heritage of strength. A workhorse that can be found in many print shops around the world. Excellent resale value. The Champion 305 continues the Challenge tradition of providing assurance you made the right decision! Champion 305 Hydraulic Guillotine – The Challenge Machinery Company, www.challengemachinery.com.
Challenge Champion 305X Paper Cutter Review
Challenge makes some excellent heavy-duty paper cutters. One of them is the Champion 305X, a device that lives up to its name. Here's how it stacks up….
The 305X is perfect for cutting large sheets. This device can cut paper that's up 30.5" wide and 30.5" deep, so you'll be able to process those large documents. There's plenty of room on the cutting table so you'll never feel cramped no matter how large your documents are.
This device has a false clamp that affects how much paper can be cut at once. When the false clamp is engaged, you'll be able to cut up to 4 inches of paper, which is well more than 500 sheets. Without the false clamp, you can cut a stack that's up to 3.75" high. This machine has a three-phase 3.5-horsepower motor so it's able to handle a large number of sheets quickly.
This machine's clamp is powered both manually and hydraulically. It's capable out putting out more than 5,000 pounds of pressure so you paper will stay put when it's being cut. The amount of pressure put out can be adjusted according to your needs. You can operate the clamp via foot pedal if you want.
To help you get the best cut possible, the 305X has a backgauge that's operated by a handwheel. The machine has an LCD display so you'll be able to see the position of the backgauge.
The 305X has an illuminated cutting line indicator so you'll be able to see where your paper will be cut. This feature will allow you to make any needed adjustments before you actually start cutting. Also, the entire cutting surface is lit so you'll be able to easily see what you're doing.
This device is equipped with some great safety features. The rear table is enclosed to prevent contact with the blade and this machine requires two-handed operation. There's also a blade safety latch so the blade will stay in the desired position to prevent injuries from occurring.
If durability is one of your concerns, you'll be glad to know that this device is made from steel and cast iron. In fact, it's one of the most durable cutters around so you'll be able to get a lot of use out of it.
The 305X is one of those devices that needs a fair amount of room. Its dimensions are 58.5" (height) x 48.5" (width) x 70" (length) so it's really not ideal for a lot of offices. (However, it would be great for print shops, mail rooms, and other similar environments.) If you choose to use side tables with this machine for extra room, it will be 78.5" long.
Finally, the 305X is backed by a one-year warranty.
Overall, the Challenge Champion 305X is a great machine to get if your workplace needs a heavy-duty cutter that can process large sheets of paper. This device offers a first-rate cutting capacity and its clamp can be operated either manually or hydraulically. The illuminated cutting line will help you cut right where you need to and the safety features greatly reduce to risk of an injury. This is a very large device, but that's kind of to be expected with this type of paper cutter. If the 305X sounds right for your cutting needs, take a look at this Champion today.