GBC CombBind C800pro Electric Plastic Comb Binding Machine
The new GBC CombBind C800pro Electric Plastic Comb Binding Machine (Formerly the Ibico EPK21 Binding Machine) sets the industry standard for electric comb binding machines. This all metal plastic comb binding machine is extremely well-built and is meant to stand the test of time (many EPK21 binding machines have been in use for decades without problems). The GBC C800pro includes a heavy duty foot pedal operated comb binding punch with a manual plastic comb opener. The GBC C800pro is fully compatible with all the plastic combs, GBC ZipBind spines and binding covers carried by Mybinding.com
Product Details
Formerly the Ibico Electric Punch/Bind -- EPK21
For books up to 12" in length.
Binds documents up to 425 sheets (2").
Production rate: Electric punches up to 25 sheets per punch.
4-position punch margin guide setting.
Foot pedal punch operation.
List Price $2399.00
Part Number: 27170 , G27170
Primary UPC: 013465271700
Warranty: 1 Year Manufacturer Warranty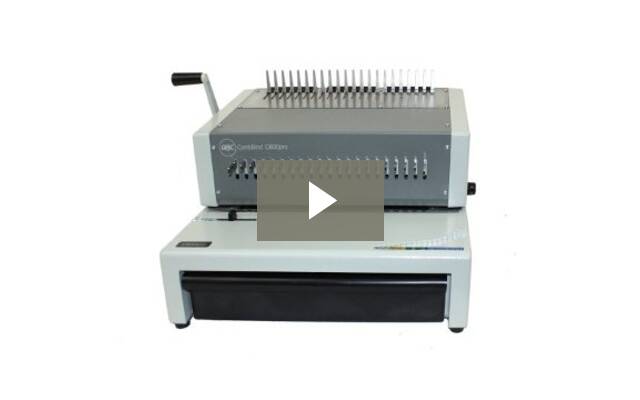 Transcript:
Welcome to MyBinding video. Today we look at the CombBind C800pro, an electric plastic comb binding system by GBC. The C800pro sets an industry standard. It's efficient and easy to use and built hea...
Read More
Welcome to MyBinding video. Today we look at the CombBind C800pro, an electric plastic comb binding system by GBC. The C800pro sets an industry standard. It's efficient and easy to use and built heavy-duty to last through thousands of projects. You can dial in and set the side margin control stop for accuracy and consistency throughout your whole project. A hand or foot pedal runs the electric punch. And on this trial test page, you can see we have a half punch. So any of the disengageable die pins can be pulled out to remove the punch in that space. Then punch again and get exactly what you need and where you need it. On the side of the machine is a depth of margin control knob. This allows you to make thinner or thicker margins when you punch. This is useful for thinner or thicker documents. With your settings all made, let's start with the covers. Place them into the throat of the machine and push down. The C800pro has a punch capacity of 25 sheets of 20lb paper per lift. Once you've punched through your whole project, assemble it together. It's time to bind.
The 800pro has a binding capacity of 425 sheets, or two inches. A guide on the top of the machine can help you decide exactly what size plastic comb you need for your project. Simply slide it into the groove and read the chart. In comb binding, be sure the keep the plastic teeth faced up and the project faced down so it doesn't come apart in use. Place the comb over the teeth of the comb opener, pull back the lever, and open the teeth. With the comb open wide enough, drape your project over the teeth of the comb, assuring that they all go through. Close your comb, remove your book, and you're all done. The chip tray where all the punched holes go is right here at the bottom and easily accessed. It's that simple with the C800pro by GBC. For more demos, reviews, and how-tos on this product and many more, check out MyBinding.com.
GBC CombBind C800pro Electric Comb Binding Machine Review
The GBC CombBind C800pro electric comb binding machine is, quite simply, the best heavy-duty device of this type available. It's an updated version of the classic Ibico EPK21, a machine that has been known to still work even after more than a decade of use. The C800pro has a lot going for it, so let's take a look at the pros of this excellent product and also address its few cons.
The Pros:
The C800pro has one of the best binding and punching capacities of an electric comb binding machine on the market. It can punch up to 25 sheets per lift, as well as bind documents that are up to 425 pages long. Any plastic comb can be used with this binder, as well as GBC ZipBind spines.
This machine's hole punch is activated by a foot pedal. This keeps your hands free so you can punch your paper much more quickly and you won't risk a condition like carpal tunnel syndrome that can result from working a punching lever repeatedly. Paper chips are stored in an enormous drawer until you have time to get rid of them.
You can control where on the page your holes will go thanks to an adjustable depth of punch margin control that has four settings. Adjusting the depth will allow you to create books that are bound much more securely. The pages of your document will also turn a lot easier.
All of the C800pro's 21 pins are fully disengageable which will allow you to bind documents that are 12 inches in length or shorter. This machine would be great for binding books that contain half-letter or A4 paper.
This is one of the most durably constructed electric comb binding machines you can buy at the moment. It contains metal parts and was designed for heavy use. Chances are your C800pro will last for years and years.
The Ibico EPK21 was orange at one point in its history. The C800pro is a much more palatable gray and black.
This product has a limited one-year warranty.
The Cons:
The main weakness of the C800pro is that it cannot punch and bind paper longer than 12 inches. So if you want to bind a legal-sized document or one using 11" x 17" paper, this device won't be much help.
The C800p should be used for punching more than 2 plastic covers at the same time. If you try to punch more than two, you could damage or permanently wear out the motor. This could be an expense experience if the machine is no longer under warranty because you'll likely need to replace the entire device.
This is a heavy-duty product and it very much looks like it. It's not as sleek and eye-catching as, say, the GBC ProClick Pronto 3000. (At least it's not orange anymore.)
The GBC CombBind C800pro is the ideal machine if your company needs a workhorse for all of your comb binding projects. If you buy it, you're bound to find that you may never need to buy another machine like this again...nor will you want to.