Quartet Workstation Privacy Screen
The Quartet Workstation Privacy Screen turns thinking into serious business by regaining valuable lost time. No interruptions. No diversions. This ultra-lightweight translucent plastic screen easily puts a barrier between you and any unwanted distractions throughout the day. The privacy system comes complete with a nameplate to identify an individual or department name, while the dry-erase board enables you to leave important messages. A versatile mounting panel allows quick and easy installation on the inside or outside of cubicle panels. The contemporary, translucent plastic panels and brushed-silver aluminum frame complement any modular office environment.
Product Details
Highly durable, ultra-lightweight partial-length sliding screen transforms cubicle workspaces into interruption-free work zones
Shatterproof, translucent polycarbonate screen slides open and closed, lets in natural light and allows you to see outside your cubicle
Versatile mounting panel allows quick and easy installation on inside or outside of cubicle panels measuring 1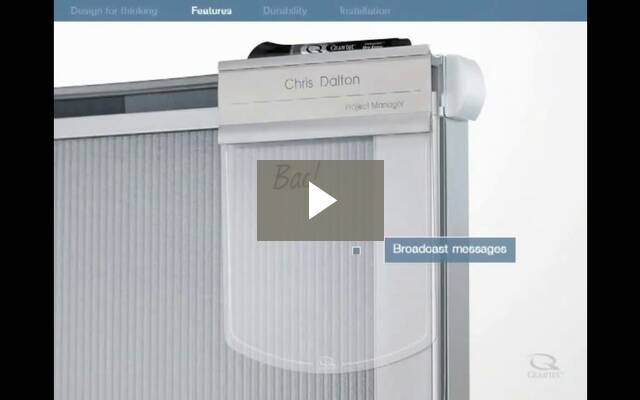 Transcript:
The Quartet Workstation Privacy Screen, the ultimate Do Not Disturb Sign. Minimize interruptions, increase concentration. The #1 complaint among people working in cubicles is a lack of privacy. Often,...
Read More
The Quartet Workstation Privacy Screen, the ultimate Do Not Disturb Sign. Minimize interruptions, increase concentration. The #1 complaint among people working in cubicles is a lack of privacy. Often, it takes up to four times longer than the interruption itself to return to the same level of concentration. The average worker is interrupted up to 73 times a day, including phone calls, email, conversations, and those quick questions that are not so quick, but with the Quartet Premium Privacy Screen, you'll stay focused. It's the Ultimate Do Not Disturb Sign.
Finally, think clearly and get things done. Easily mount the screen to the top of your cubicle panel and effortlessly slide the screen open and closed, blocking interruptions and letting you get more work done. The translucent, polycarbonate screen won't block natural light and will let you get a glimpse of what's going on outside of your cubicle as others see how busy you are inside. Broadcast messages with the dry erase message board with built in marker tray. The customisable name-plate identifies you or your department.
Designed to last for years of continuous use, each privacy screen is built with a brushed, anodised aluminum frame and die case corners to add strength and durability. The Privacy Screen is easy to install. The universal mounting system can be mounted to the right or left side of your cubicle opening. It is designed to work on standard sizes cubicle panels measuring 50 inches tall and 1 and 1/4 to 3 and 1/4 inches thick.
The Quartet Privacy Screen will seamlessly blend into any office environment. Just clamp to the outside of your cubicle wall and slide open and closed to create the distraction free zone you need. Accomplish more with Quartet Workstation Privacy Screens.
Block the Outside World With Quartet Workstation Privacy Screens
Today's modern office is the corporate equivalent of a very busy beehive. There are constant meetings and conferences, phones ringing off the hook, faxes coming in, e-mail piling up, and so on. Sometimes what you really need is to just shut out the world, sit down, and crank out some good, hard work, but that's difficult to do when your co-worker is on the phone constantly and there are frequent interruptions from people ranging from the receptionist to the mailman. Your workspace should be the office equivalent of a sanctuary, but how can you get that without resorting to such drastic measures as holing up in the bathroom with your laptop and BlackBerry? Well, there's good news, because office supply manufacturer Quartet has a line of workspace privacy screens that offer solutions for today's busy office. To find out more about Quartet's privacy screens and how they can lead to a more serene working environment, please continue reading.
Too often, working in a cubicle means constant interruptions, thanks to a cubicle's open design. Most cubicles only have three walls (and sometimes only two), leaving you vulnerable to interruptions and making it difficult, if not impossible, to concentrate on your job. However, you can change all of that with a Quartet privacy screen. These screens are made from durable, shatterproof, translucent polycarbonate that not only looks good, it lets people see that you're busy working, so they'll go bug someone else. Also, the screen allows natural light to filter in, which is always nice. The screens are framed with brushed aluminum, which gives them a contemporary, high-tech look. Each privacy screen has a built-in nameplate so you'll always know whose cubicle you're visiting. There's also a small whiteboard with tray, so it's easy to leave messages for your co-workers or share important information without having to leave your cube, send out an e-mail, or pick up the phone.
Quartet has two different privacy screens available. The first is the full-length WPS2000 model that can be used with any cubicle, no matter how tall, thanks to its extendable legs. This screen attaches to a cubicle wall via a slide mount and it has casters so it can be moved from cubicle to cubicle, if needed. The second model is the WPS1000. This screen is designed to be screwed directly on to a cubicle wall and can only be used with cubicles up to 72 inches high. No casters are included with this model, so if portability is an important feature to you, go with the WPS2000. However, if you need a permanent privacy solution, the WPS1000 would be a perfect choice.
In today's volatile economy, it's important to be on top of your work and the best way to do that is minimize distractions and work in a quiet environment. Quartet's workspace privacy screens can help you do that by turning your cubicle into a private workspace. So get a Quartet privacy screen, shut out the distractions, and get to work today!
| | | |
| --- | --- | --- |
| Size | Part Number | Frame Style |
| | | |
| 36" x 48" | QRT-WPS1000 | Aluminum Frame |
| | | |
| 38" x 65" | QRT-WPS2000 | Aluminum Frame |