Semi-Rigid Vinyl Luggage Tag Holders - 100pk
ProductYellow Semi-Rigid Vinyl Luggage Tag Holders - 100pk - Luggage Accessories (1845-2009)
These colored semi-rigid vinyl luggage tag holders provide a fast, easy and secure way to identify your luggage or products. Each luggage tag holder has a semi-rigid colored vinyl back and a clear vinyl face. You simply slide your address card or business card into the holder and attach it to your luggage using the convenient slot that is located at the top of the tag holder. Available in six convenient colors, these are some of the most popular luggage tag holders available on the market.
Product Details
Type: Semi-Rigid Vinyl Luggage Tag Holder
Color: Black, Blue, Green, Red, Yellow or White
Material: Semi-Rigid Colored Vinyl
Connector: Slot
Size: 4-1/4" x 2-1/2" (108mm x 64mm)
Quantity: 100 per Pack
ProductReviews
There are No Reviews on this Product Yet
DemonstrationVideo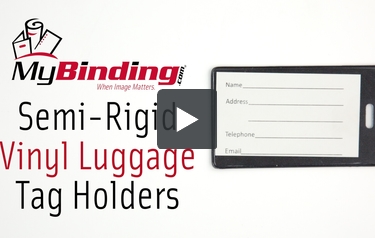 MB Semi-Rigid Vinyl Luggage Tag Holders - 100pk
Transcript:
Welcome to MyBinding Video. These are the Semi-Rigid Vinyl Luggage Tag Holders from MyBinding. These great luggage tags are incredibly durable and can help you identify your bag quicker. They're made with a thick chunk of colored, semi-rigid vinyl and covered with a thinner layer of clear vinyl to view your information card, or business card. These luggage tag holders are available in blue, green, red, yellow, white and black like you see here, all in boxes of 100. For more videos and all your binding needs, visit MyBinding.com...
Read More
Welcome to MyBinding Video. These are the Semi-Rigid Vinyl Luggage Tag Holders from MyBinding. These great luggage tags are incredibly durable and can help you identify your bag quicker. They're made with a thick chunk of colored, semi-rigid vinyl and covered with a thinner layer of clear vinyl to view your information card, or business card. These luggage tag holders are available in blue, green, red, yellow, white and black like you see here, all in boxes of 100. For more videos and all your binding needs, visit MyBinding.com
Copyright © 2019 MyBinding.com
<![endif]-->