Avery Laminating Sheets Clear 9" x 12" 10pk - 73603
Avery Laminating Sheets Clear 9" x 12" 10pk (AVE-73603)
Product Description
For quick laminating needs, these easy-to-use Avery Laminating Sheets are the ideal tool. Each sheet is coated with self-adhesive for convenient, inexpensive lamination. Simply use the included grid to size the document, place the document on the adhesive side of one sheet, lay the second sheet adhesive side down to seal the other side of the document and trim the edges. Soon, with the help of Avery, you'll have a beautifully laminated document that looks professional and will stand the test of time.
Product Details
Seals important documents for convenient long-term protection
Self-adhesive with special easy-peel backing
Grid helps you quickly and easily size documents
Includes ten self-adhesive laminating sheets
UPC: 077711736030
Part Number: AVE-73603, 73603
Demonstration Video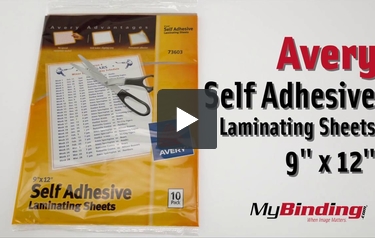 Avery Laminating Sheets Clear 9" x 12"
Transcript:
Welcome to MyBinding.com. These are the Self Adhesive Laminating Sheets in 9x12" from Avery.

If you need some laminated documents, but don't have a laminating machine, these laminating sheets do the trick. You can use the grid printed on the adhesive cover to precut the sheets to the necessary size. Simply peel off the adhesive cover and lay your document down on top, then repeat for the second cover and seal it all together. Clean up the edges with scissors or a straight edge. With the help of Avery you'll have perfectly laminated documents that will stand up against any machine laminated ...
Read More
Welcome to MyBinding.com. These are the Self Adhesive Laminating Sheets in 9x12" from Avery.

If you need some laminated documents, but don't have a laminating machine, these laminating sheets do the trick. You can use the grid printed on the adhesive cover to precut the sheets to the necessary size. Simply peel off the adhesive cover and lay your document down on top, then repeat for the second cover and seal it all together. Clean up the edges with scissors or a straight edge. With the help of Avery you'll have perfectly laminated documents that will stand up against any machine laminated docs.

For more videos and all your binding needs, go to MyBinding.com