Keencut 120" Sabre 2 General Purpose Cutter - 60739
1426.5
NewCondition InStock
Keencut 120" Sabre 2 General Purpose Cutter (60739)
Product Description
The Foster Keencut Sabre 2 General Purpose Cutter (GPC) provides businesses in the graphics industry as a perfect all-purpose cutting solution for all of their cutting needs. Capable of cutting a wide range of materials such as banners, fabric, textiles, acrylic, and more, the Foster Keencut Sabre cutter is accurate to within 0.03" and always cuts square, precise, and clean. Equipped with silicon rubber grip strips to hold the material safe and secure, rear-loading blade holder, auto-retracting cutter head, and plenty of more features, the Foster KeenCut Sabre 2 GPC Cutter easily handles all of your cutting needs. Combine with your workbench or the optional Sabre stand with waste catcher for the perfect cutting workstation for your business. Save on the Foster Keencut Sabre General Purpose Cutter today with MyBinding.com. This product is currently only available to our customers in the United States of America. If you are located internationally, you will need to contact a local dealer to purchase this particular product.
Product Details
Rear loading blade holder for swift replacement; blades will never pull out in heavy materials.
Fully equipped and ready to work with 10 medium duty blades included. Accepts standard utility blades.
Integral base-plate with metric parallel indents and a cut groove.
Self-leveling hinges for materials up to 13mm (1/2").
Quick fit thread cap for easy accessory attachment.
Blade locking thumb screw adds safety and convenience.
Rotating knob for ultra-fine blade depth adjustment.
Two full length silicone grip cords protect and clamp your materials.
Safe and efficient blade ejector also doubles as a cut depth gauge.
High-grade polymer bearing system for lasting accuracy
Includes 25 medium duty utility blades.
Precision accuracy to within .03" for perfect cuts.
5 Year general warranty on all parts (except blades).
20 Year warranty on cutter bearings.
Optional 36" high stand, waste catcher, roll feeder, and 36" extended measuring arm for improved accuracy and ease.
Optional Textile Cutting Tool for cutting fabrics without fraying.
Item Specifications
Cutting Length: 120"
Suitable for Cutting: PVC foamboard, vinyl, woven fabrics, foam centered board, honeycomb and corrugated plastics, film, paper, tissue and much more.
Part Number: 60739
Dimensions: 124" x 14-1/4" x 2-1/4" (W x D x H)
Warranty:

5-year parts warranty (excluding blades, clamp strips, site line strips and cutting wheels).
20-year warranty on the bearings used in the cutting head.
Demonstration Video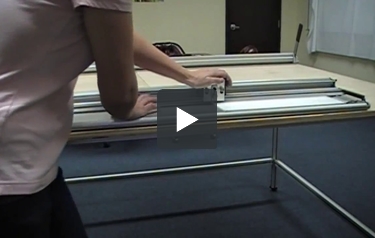 Transcript:
Sabre Series 2 GPC. Includes 1 Graphik blade holder, 1 medium-duty blade holder, 1 45mm textile cutting tool. Cutting banner, cutting 3mm Sintra PVC board. Blade depth adjustment. Cutting
Sabre Series 2 GPC. Includes 1 Graphik blade holder, 1 medium-duty blade holder, 1 45mm textile cutting tool. Cutting banner, cutting 3mm Sintra PVC board. Blade depth adjustment. Cutting
Sabre 2 General Purpose Cutters
Replacement Blades and Accessories
| | |
| --- | --- |
| Product Name | Item Number |
| Medium-duty blades (100) | 69108 |
| Superior Quality blades (100) | 69119 |
| Graphik D .017 Blades (100) | 69131 |
| 45mm Premium Circular textile blades (10) | 69132 |
| 45mm Standard Circular textile blades (10) | 69133 |
| Vertical 45mm Textile Blade Holder; fits 69132 blades | 60397 |
| Yellow "T" silicone cord (pack of 32') | KX12 |
| White silicone cord (pack of 32') | KX15 |
| 36" Extended measuring arm (for all Sabre 2 cutters) | 69210 |
| 36" High Stand For 120" Sabre Series 2 GPC and ARC | 62368 |
| Stand Package for 120" Sabre Series 2 General Purpose Cutter | 62359 |
Outstanding Features



Fully equipped & ready to work with blades included.

Easy to adjust blade depth with integrated depth
guidance allows easy and exact cutting.

Includes three Interchangeable blade holders.




A high performance cutting head design that relies on
strong Graphik blades with a cutting depth up to
13mm.

These unique reversible blades cater to both left and
right-handed operators.




Optional Stand or Stand Packages for cutter:


36"H Stand Only
Stand Package: 36"H Stand, Waste Catcher, Roll Feeder Bar




Cuts materials that are longer than the length of the cutter as a result of an
innovative hinge and lift arm mechanism.

Relies on an extruded anodized aluminum base that incorporates a narrow groove to
accept the blade tip when cutting.




Optional 36" Extended Measuring Arm for improved accuracy and versatility
(model# 69210).