C-Line Visitor Badges with Registry Log 150/book - CLI-97030
50.59
NewCondition InStock
C-Line White Visitor Badges with Registry Log 150/book (CLI-97030)
Product Description
Keep track of visitors and manage traffic in your facility with one convenient book. When the badge is filled out, the visitor names are entered in registry book, providing a written record of their visit to your facility. Each book contains 150 self-adhesive visitor badges. Carbonless copy of each badge is kept in registry book for reference. Store completed registry book when all badges are used.
Product Details
Color: White
Dimension: 2" x 3 1/2"
Quantity: 1 Visitor Registry (150 Expiring Name Badges)
Part Number: CLI-97030
Demonstration Video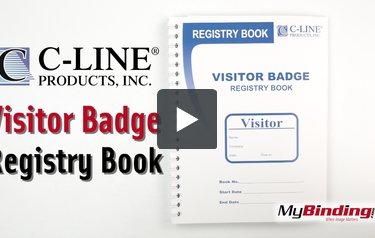 C-Line Visitor Badges with Registry Log
Transcript:
Welcome to MyBinding Video. This is the Visitor Badge Registry Book from C-Line. Keep visitors clearly identified and keep detailed records of who comes and goes with one easy to use registry system. Start by turning the transfer sheet behind the first sheet of badges to prevent writing through the carbonless paper. When you have a visitor, fill out all fields on the badge, then peel it off the page to adhere to your visitors clothing. When you finish a page, you can separate the badge page from the carbonless copy containing all the badge information. For more videos and all your binding need ...
Read More
Welcome to MyBinding Video. This is the Visitor Badge Registry Book from C-Line. Keep visitors clearly identified and keep detailed records of who comes and goes with one easy to use registry system. Start by turning the transfer sheet behind the first sheet of badges to prevent writing through the carbonless paper. When you have a visitor, fill out all fields on the badge, then peel it off the page to adhere to your visitors clothing. When you finish a page, you can separate the badge page from the carbonless copy containing all the badge information. For more videos and all your binding needs, visit MyBinding.com