Dahle Model 558 Professional 51 Inch Rolling Trimmer
348.99
NewCondition InStock
Dahle Model 558 Professional 51 Inch Rolling Trimmer (DAH558)
Product Description
Created with the professional environment in mind, the Professional Rolling Trimmer range by Dahle are high quality, durable, and reliable. This Model 558 trimmer is no exception. It features a ground self-sharpening blade that will conveniently cut in both directions, saving you time and enhancing your productivity. The trimmer can cut through up to 12 sheets of 20lb paper at a time and will suit materials measuring up to 51'' in length, making it an ideal solution for cutting paper, prints, photographs and large format graphics. This trimmer can be easily wall mounted but also comes with an optional stand. These Dahle Professional Rolling Trimmers are a perfect choice for print shops, professional photographers, and graphic design agencies, to name a few.
Product Details
Cuts up to 12 sheets of paper at a time
Self-sharpening blade cuts in either direction
Blade is made of ground steel and encased in a plastic housing for safety
Automatic paper clamp holds work securely
Adjustable backstop
Inch and metric measurements with metric sizing grid for precise cuts
Sturdy metal base will not warp or crack
Can be wall mounted
Optional paper roll holder available
Optional floor stands available
Item Specifications
Cutting Length: 51"
Cutting Capacity: 12 sheets
Dimensions: 58 1/2" x 14"
Part Number: 558
Warranty: Lifetime Limited Manufacturer Warranty
Demonstration Video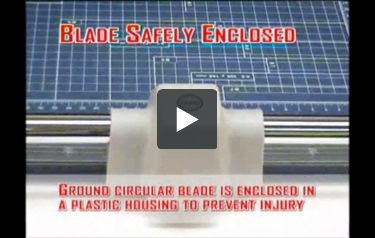 Transcript:
Rolling Trimmer Prfessional SeriesGridlinesInch and metricEasy alignment of material for precision trimmingCuts in either directionSaves time and improves efficiency when trimming multiple itemsSelf-sharpening bladeProduces a clean, burr-free cut for many years of precision trimmingBlade Safely EnclosedGround circular blade is enclosed in a plastic housing to prevent injuryAdjustable Paper GuideEasy alignment of material for repetitive cuttingAutomatic Paper ClampSecurely holds work in place and prevents shiftingSturdy Metal BaseThe cutting surface will never warp, crack or chipRolling Trimmer ...
Read More
Rolling Trimmer Prfessional Series
Gridlines
Inch and metric
Easy alignment of material for precision trimming
Cuts in either direction
Saves time and improves efficiency when trimming multiple items
Self-sharpening blade
Produces a clean, burr-free cut for many years of precision trimming
Blade Safely Enclosed
Ground circular blade is enclosed in a plastic housing to prevent injury
Adjustable Paper Guide
Easy alignment of material for repetitive cutting
Automatic Paper Clamp
Securely holds work in place and prevents shifting
Sturdy Metal Base
The cutting surface will never warp, crack or chip
Rolling Trimmer Professional Series
Available in: 14? , 20? , 28? , 37? , 51? cutting lengths
Call 800.243.8145 for an Authorized Dealer near you
Staff Review
Dahle 558 Professional Rolling Trimmer Review
If you need to work with very large items, one device that's worth a look is the Dahle 558 Professional Rolling Trimmer. Let's learn all about it by considering its strengths and weaknesses.
Strengths:
Unlike guillotine cutters, rolling trimmers typically don't have high cutting capacities. That's not the case with the 558 which can cut as many as 20 sheets of paper at once. This cutting capacity makes this device ideal for medium-sized jobs in professional environments (i.e. print shops, graphic design studios, offices, etc.).

The 558 can cut really large items that are up to 51 inches long. (That's equivalent to 4.5 feet.) This is a great trimmer to use if you regularly work with signs, blueprints, and other large materials.

This device uses a ground steel blade that's self-sharpening. It can cut in both directions which really helps make trimming easier. The blade is located in a plastic cutting head for safety purposes.

If you want to use rolled paper, you can certainly do that with the cutter. There's a roll holder that's sold separately and can be attached to this device. Using this cutter to trim roller paper is definitely a lot easier than using scissors or a craft knife and you'll get a better cut when you do so. (This method is also a lot safer.)

The 558 has multiple cutting guides printed on its durable metal base. The cutting guides so you where to cut if you want a certain size of paper. There's even a protractor you can use if your paper needs to be cut on an angle. The base also has an alignment grid with metric and standard measurements.

Whether you're cutting a full 20 sheets or just a couple, your work will stay in place thanks to the automatic paper clamp. Meanwhile, the adjustable backstop makes it easy to cut repeatedly when needed.

And to top it all off, the 558 is backed by a limited lifetime warranty.
Weaknesses:
While this device's cutting length is definitely a strength, it's also a bit of a weakness because it means that the cutter is extremely large and will take up a lot of room. This cutter measures 58.5" x 14.125" so finding a large enough surface for it might be difficult. Luckily, the cutter can be mounted on a wall and you can even purchase a floor stand for it.

The 558 isn't that heavy - it only weighs 27 pounds. However, it may be challenging to move it around because of its size.
The Dahle 558 Professional Rolling Trimmer is great for cutting large items. This device has a great cutting capacity so you'll be able to take care of a lot of sheets at once. The self-sharpening blade is safe to use and it's great that there's an optional roll holder for this device. Your job will be easier thanks to the cutting guides and paper clamp. Finding a large enough space for it is going to be the one difficult thing about using this trimmer, so you may want to consider purchasing a stand for it. Other than that, the 558 has a lot going for it. Take a look at it today.
Thank you for your question. This is not the ideal cutter for gator/mat boards. We would suggest looking at specific mat cutters for any board cutting needs.
Answered by MyBinding.com
Thank you for your question. We confirmed with Dahle that your are able to remove the gray/red adjustable paper guide from their rotary trimmers.
Thank you for your question. The Dahle Model 558 Professional 51 Inch Rolling Trimmer is able to cut card stock up to 100 # cover stock. It may have issues with a corrugated cardboard though.

▶
Asked by Do you carry rotary blades for
Thank you for the question. Replacement blades for the Dahle Model 558 are something that we can order for you directly from Dahle but they are not a stock item that we currently carry . Give our customer service team a call @ 1-800-944-4573 and we can reach out to Dahle for you to get a quote for cost and availability.