Open Box Max HD-12N/24 Heavy Duty Stapler (50-240 Sheets Capacity)
61.99
NewCondition InStock
MAX Corp Gray Open Box HD-12N/24 Heavy Duty Stapler (50-240 Sheets Capacity) (R4HD12N24)
Product Description
Stapling and reloading are easy and efficient with Max HD-12N/24 Heavy Duty Stapler. It is featured with ergonomic handle design that fits in palm and offers extra leverage of stapling force. This stapler can staple 50 to 240 sheets of paper, and has an adjustable paper stopper for throat depth adjustment. The HD-12N/24 has a durable full metal construction that is encased by high impact plastic cover. Plus, it has a staple window slot that shows the size of the staple currently in the staple channel. Other great features include rear loading for easy and quick staple reload, and a rubber base that protects desk and provides firm stapling control. EX
Product Details
Ergonomic handle design fits in palm and offers extra leverage of stapling force.
Durable full metal construction encased by high impact plastic cover.
Adjustable Paper Stopper enables to adjust throat depth.
Rubber base protects desk and provides firm stapling control.
Staple window slot shows the size of the staple currently in the staple channel.
Rear loading makes it easy and quick to relaod staples.
Item Specifications
Stapling Capacity:30 to 240 Sheets
Load Capacity: 100 Staples
Throat Depth: 2-3/4"
Recommended Staples:MAX 1213FA-H, 1215FA-H, 1217FA-H, 1220FA-H, 1224FA-H
Dimensions: 15-7/8"(H) x 3-1/2"(W) x 15-1/3"(L)
Weight: 5.1 lbs
Part Number: MAX HD-12N/24
Warranty:1 year on parts and 90 Days on labor
Demonstration Video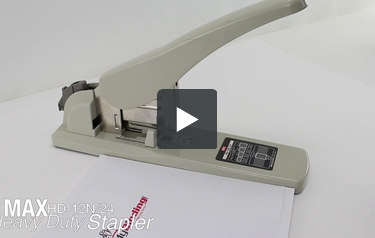 Transcript:
Welcome to MyBinding video. Let's have a look at the HD-12N 24, Max's heavy duty stapler. Built with 5 different staple options in mind, this stapler has a great staple capacity, handling up to 240 sheets of 20 pound paper. All the staples are loaded from the back, you pull out the one carriage stop, slide everything in, put the carriage stop back in, snap it together and you're good to go. There's a depth of margin control slide that has a built in knob so your whole perfect run is consistent and when it comes to punching, these Max staplers punch well, smooth and easy. You just put these 80 ...
Read More
Welcome to MyBinding video. Let's have a look at the HD-12N 24, Max's heavy duty stapler. Built with 5 different staple options in mind, this stapler has a great staple capacity, handling up to 240 sheets of 20 pound paper. All the staples are loaded from the back, you pull out the one carriage stop, slide everything in, put the carriage stop back in, snap it together and you're good to go. There's a depth of margin control slide that has a built in knob so your whole perfect run is consistent and when it comes to punching, these Max staplers punch well, smooth and easy. You just put these 80 sheets punch right through easily and now for 220, you put a little force, the leverage is there and it goes in well. There it is. It's that simple with the Max HD-12N/24. For more demos, reviews and how to's, check out MyBinding.com