10mil Blue Backed Laminating Pouches
10mil Blue Backed Laminating Pouches
Color:Blue
Crystal clear front
Rigid durable quality
100 Pouches per pack
Product Description
Use these 10mil Blue Backed Laminating Pouches to add a splash of color to your laminated cards and documents. These laminating pouches are clear on one side and colored on the other making them perfect for setting your documents apart while still letting your clients and customers read the important information on your material. These unique Colored Laminating Pouches are sure to make the impression that you have been looking for.
Product Details


Size: Choose Above
Thickness: 10mil
Front: Clear
Back: Blue
Quantity: 100 Per Box
Slot Position:N/A
Corners: Round (1/8" radius)
Demonstration Video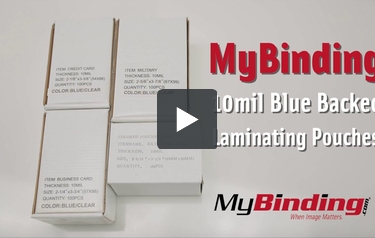 10mil Blue Backed Laminating Pouches
Transcript:
Welcome to MyBinding.com. These are the 10mil Blue Backed Laminating Pouches.

These pouches are the best in protection because of their 10mil thickness. They come in several different sizes including, business card, credit card, military and IBM data size, all with rounded corners. The clear front gives clear visibility while the blue back makes for easy identification or just a cool unique background. Just align your document inside the pouch so you can read the document through the clear side, set the pouch in the laminating sleeve and let it run through your laminator. I used a 5mil pouc ...
Read More
Welcome to MyBinding.com. These are the 10mil Blue Backed Laminating Pouches.

These pouches are the best in protection because of their 10mil thickness. They come in several different sizes including, business card, credit card, military and IBM data size, all with rounded corners. The clear front gives clear visibility while the blue back makes for easy identification or just a cool unique background. Just align your document inside the pouch so you can read the document through the clear side, set the pouch in the laminating sleeve and let it run through your laminator. I used a 5mil pouch laminator and it only fused the edges, so make sure to use a laminator capable of properly fusing 10mil pouches. If blue isn't your color, we have several different bold colors to choose from.

For more videos and all your binding needs, go to MyBinding.com