3"x4" Horizontal Clear Vinyl Badge Holders with Clips & Holes - 100pk
31.69
NewCondition InStock
3"x4" Horizontal Clear Vinyl Badge Holders with Clips & Holes - 100pk
Product Description
These high quality military / government size clear vinyl badge holders are equipped with a handy clip to attach the badge to your clothes. Plus they also have attachment holes and a slot for use with a lanyard, badge reel or neck chain. Made from an ultra clear vinyl, these badge holders are available in both horizontal and vertical options. Just slide your name badge into the holder and your name tag will be ready to clip onto your shirt.
Product Details
Type: Clear Vinyl Badge Holder
Color: Clear
Orientation: Horizontal (Top Load)
Connectors: 2-Hole Clip with Slot and Chain Holes
Max Card Size: 3" x 4" (76mm x 102mm)
Quantity: 100 Per Pack
Part Number: 1815-1405
Demonstration Video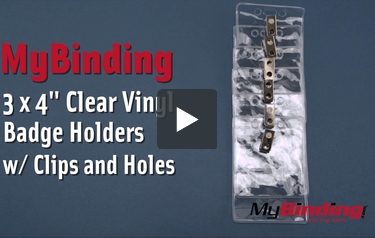 3x4" Clear Vinyl Badge Holders with Clips and Holes
Transcript:
Welcome to MyBinding.com. These are the 3x4" Clear Vinyl Badge Holders with Clips and Holes from MyBinding.

For long lasting, easily visible badges, look no further. These badge holders are made with high quality, ultra clear vinyl, and are 3x4" military and government sized. They're built with a handy metal clip to attach to clothes, and have a punched hole at the top for use with a badge reel, lanyard or neck chain. Just slide your badge or ID into the holder and you're ready to go. These holders are available in vertical like you see here, or in horizontal for however your badges are ori ...
Read More
Welcome to MyBinding.com. These are the 3x4" Clear Vinyl Badge Holders with Clips and Holes from MyBinding.

For long lasting, easily visible badges, look no further. These badge holders are made with high quality, ultra clear vinyl, and are 3x4" military and government sized. They're built with a handy metal clip to attach to clothes, and have a punched hole at the top for use with a badge reel, lanyard or neck chain. Just slide your badge or ID into the holder and you're ready to go. These holders are available in vertical like you see here, or in horizontal for however your badges are oriented.

For more videos and all your binding needs, go to MyBinding.com