8" x 12" 5mil Clear Vacuum Bags - 1000pk
177.19
NewCondition InStock
8" x 12" 5mil Clear Vacuum Bags - 1000pk
Product Description
These 8" x 12" 5mil Clear Vacuum Bags are BPA-free and FDA and USDA approved for direct contact with food. These poly/nylon vacuum pouches deliver reliability while featuring exceptional optical qualities like clarity and high glass. The films extensibility (ability to stretch) allows it to conform to unique product geometry. These 8" x 12" 5mil Clear Vacuum Bags have low oxygen transfer rate, high impact resistance and economical that make them popular with meat, fish, nuts, dried fruit, jerky, and snack products. Also available in many different sizes to fit your vacuum sealing needs. Get 1000pcs on every order.
Product Details
Clear multi layer barrier film .
Low oxygen transfer rate.
Packaged in 1000pcs/case.
Thickness: 5mil - puncture resistant.
Item Specifications
Size: 8" x 12"
Construction: 30/100 PA/PE
Thickness: 5MIL (130 MICRON) µ (DIN 53370)
Gas Permeability:

Water Vapor Transmission Rate: 1.9 g/m2 .24hr (DIN 53122 23ºC / 85% RH)
Oxygen (O2) Transmission Rate: 30 cm3/m2 (DIN 53380 23ºC / 75% RH)

Mechanical Strength:

MD: 55-65 Mpa (DIN 53455 23ºC / 50% RH)
TD: 45-55 Mpa (DIN 53455 23ºC / 50% RH )

Recommended Heat Sealing Yemperature: 150 – 180 / 302 – 356 ºC / ºF
Quantity: 1000pk
Demonstration Video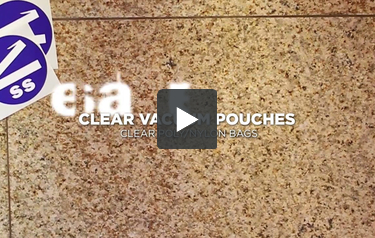 Sealer Sales Vacuum Bags
Transcript:
CLEAR VACUUM POUCHES
CLEAR POLY/NYLON BAGS

Protect and preserve freshness of food products
Keep non-food products sterile
BPA-Free & FDA approved
Various Mil thicknesses available 3mil, 4mil & 5mil
Large Variety of Size Available from 4"X6" to 22"X34"
Available options: Ziplock / Hang Hole
Use with our vacuum sealers – nozzle or chambers
PLS NOTE: Cannot be used with home type suction unit like the foodshell or foodsaver
CLEAR VACUUM POUCHES
CLEAR POLY/NYLON BAGS
Protect and preserve freshness of food products
Keep non-food products sterile
BPA-Free & FDA approved
Various Mil thicknesses available 3mil, 4mil & 5mil
Large Variety of Size Available from 4"X6" to 22"X34"
Available options: Ziplock / Hang Hole
Use with our vacuum sealers – nozzle or chambers
PLS NOTE: Cannot be used with home type suction unit like the foodshell or foodsaver