Avery 1-1/2" Assorted Durable Slant Ring Binders 12pk - 11358
67.79
NewCondition InStock
Avery 1-1/2" Assorted Durable Slant Ring Binders 12pk - 11358
Product Description
These Avery 1-1/2" Assorted Durable Binders with EZ-Turn Gap Free Rings are an excellent choice for organizations that need heavy duty binders for their important documents, literature and presentations. Each 1-1/2" assorted binder features the Avery EZ-Turn ring that allows for smooth page turning and easy loading. Plus these rings are Gap Free which means that you won't have to worry about the rings becoming misaligned or pages coming out of the binder. These 1-1/2" assorted binders have black vinyl on the inside front and back covers and also feature four interior stacked pockets. The rings are mounted to the back of the binder allowing your 8.5" x 11" letter sized documents to lie flat when the binder is opened. They are even made from 45% post-consumer content. Consider using Avery 1-1/2" Assorted Durable Binders inside your organization today. Product number AVE-11358.
Product Details
Durable construction is ideal for frequent reference.
Deep texture film offers a smoother finish and features a linen pattern for high-quality look and feel
DuraHinge design is stronger, lasts longer and resists tearing, and DuraEdge feature makes the sides and top more pliable to resist splitting
Wide panels fully cover standard dividers and sheet protectors
Organize and secure paper with two durable pockets
People Who Viewed Also Viewed
Item Specifications
Binder Type: Avery Durable Binders with EZ-Turn Rings
Ring Type: EZ-Turn Gap Free Rings
Color: Assorted (Black, Burgundy, Green, Royal Blue)
Ring Size: 1-1/2"
Sheet Capacity: Approx. 375 Sheets (20# Bond)
Label Holder: No
Locking Rings: No
Pockets: Yes
Quantity: 12 Binders Per Carton
UPC: 077711113589
Part Number: AVE-11358, 11358
Demonstration Video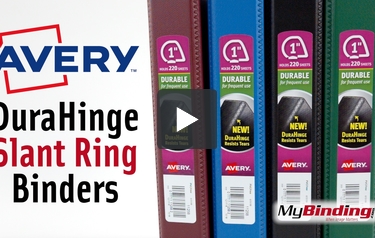 Avery Assorted Durable Slant Ring Binders
Transcript:
Welcome to MyBinding Video. These are the DuraHinge Slant Ring Binders from Avery. It's hard to find a binder that is more durable than these. Thick, textured poly and superior seam welding keep your documents protected for years to come. DuraHinge seam welding spreads out the wear as your open and close the binder. EZ-Turn gap free rings guarantee your documents stay secured, and make turning easier on the punch holes. These binders are available in .5" with a 100 sheet capacity, up to 2" with a 500 sheet capacity. Each pack includes 12 binders in four colors, black, burgundy, green, and blue ...
Read More
Welcome to MyBinding Video. These are the DuraHinge Slant Ring Binders from Avery. It's hard to find a binder that is more durable than these. Thick, textured poly and superior seam welding keep your documents protected for years to come. DuraHinge seam welding spreads out the wear as your open and close the binder. EZ-Turn gap free rings guarantee your documents stay secured, and make turning easier on the punch holes. These binders are available in .5" with a 100 sheet capacity, up to 2" with a 500 sheet capacity. Each pack includes 12 binders in four colors, black, burgundy, green, and blue. For more videos and all your binding needs, visit MyBinding.com