Avery Name Badge Insert Refills 2-1/4" x 3-1/2" 8up (50 sheets) - 5390
22.09
NewCondition InStock
Avery Name Badge Insert Refills 2-1/4" x 3-1/2" 8up (50 sheets) - 5390
Product Description
These Avery Name Badge Inserts help you identify everyone in your building. Use your creativity and expertise to design badges complete with names, titles and logos. No need to mess with margins---just type and print from any inkjet or laser printer using Avery templates. After that, tear out and insert the badges into compatible Avery badge holders (available separately). Now you can put names to those unfamiliar faces. This pack contains 50 sheets with 8 badges per sheet.
Product Details
For use with Avery name badge holders (available separately)
Inkjet and laser compatible
Avery name badge refills give you professional-quality results right at your desktop
UPC: 072782053901
Part Number: AVE-5390, 5390
Demonstration Video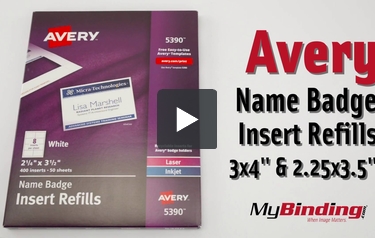 Avery Name Badge Insert Refills
Transcript:
Welcome to MyBinding.com. These are the Name Badge Insert Refills in 2.25x3.5" and 3x4" from Avery.

If you already have the Avery Clip Style Name Badge Holders, you'll probably need some new Name Badges over time. These badges make professional identification quick and painless. Head over to Avery.com for printing templates. Just enter your product number into the search field and select one of the 960 templates they've already made for you. Set the Navigator on the right to "Edit All" and design how you want all the badges to took, then switch to "Edit One" to individually edit each badge ...
Read More
Welcome to MyBinding.com. These are the Name Badge Insert Refills in 2.25x3.5" and 3x4" from Avery.

If you already have the Avery Clip Style Name Badge Holders, you'll probably need some new Name Badges over time. These badges make professional identification quick and painless. Head over to Avery.com for printing templates. Just enter your product number into the search field and select one of the 960 templates they've already made for you. Set the Navigator on the right to "Edit All" and design how you want all the badges to took, then switch to "Edit One" to individually edit each badge, like setting names and titles. You can add as many pages as you want to print at one time. Then fold on the perforations, pop them out and load up your badge holders. Easy and professional every time.

For more videos and all your binding needs, go to MyBinding.com