Perfect Binding Machines
Many consider perfect binding to be the highest quality form of document finishing. These systems apply hot glue to the spine of a stacked document for adherence to a wrap-around cover. The result is a high quality product that continues the long tradition of bookmaking craftsmen throughout the centuries. After the book is bound most organizations will trim the exposed edges (often referred to face trimming) with a guillotine cutter. The finished book looks much like a paperback that you would buy at a bookstore. Or, it is possible to bind these contents into a hardcover case for a hard bound finished book. If you are looking for a lower budget alternative you might consider using a
Thermal Binding Machine
with
glue strips
or with
Coverbind Print on Demand Covers
.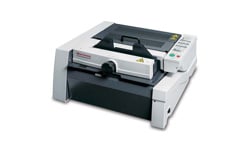 Easy Operation: Unlike other perfect binders, the BQ-160 requires little adjustment. A simple switch allows the operator to immediately select one of three binding modes
Precision Engineering: The superior design of the BQ-160 for the cut sheet market lets the operator produce big machine quality without the complication, noise and residual paper dust of bigger perfect binders.
Optimum Performance: Another unique feature of the BQ-160, commonly found on more expensive binders, is its dynamic nipper table which automatically senses and adjusts to the size of the book.
Simple Operator Controls: With no complicated adjustments, the BQ-160's userfriendly design couldn't be easier.