Preformed Calendar Hangers
In the Calendar-making business? Then you'll need some Pre-formed calendar hangers for the best product. And we carry preformed calendar hangers from Renz, a trusted name in unique binding projects. These calendar hangers are used along with a thumb-cut calendar punch, such as the Renz TC20 ThumbCut Punch, to bind calendars with twin loop wire, allowing users to easily hang the finished product on the wall. They come in a variety of sizes, and packs up to 3000 pieces for those serious users, so you'll have more than enough to work with!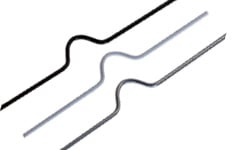 Can be used along with twin-loop wires to produce a hanging calendar with a 20mm thumb hole.
Made from high quality nylon coated wire that will give your calendar a professional appearance.
Qty: 5000pcs/Reel
Size: 4"

Highest quality manufacturing for consistent production applications.
Also available in black color and in sizes from 105 mm to 400mm (4.125" to 15.75").
Designed for calendar production wire binding systems.
Length in Inches: 4.125" up to 15.75"