Assorted View Binder Colors
If you need a pack of assorted colors when it comes to your view binders, you're in the right place. We have a variety of standard, premium, and economy view binders in every single size you could need! These 3-ring binders are an excellent solution for all your presentation needs. You can customize presentations and proposals simply by inserting printed sheets in the front back and spine. Available in both round ring and D-Ring configurations. Can't find what you are looking for? Give us a call and we will help you out.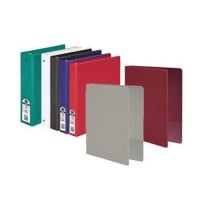 Assorted color collection, heavy duty covers.
Three sizes 1", 1-1/2" and 2".
Hold from 175 to 400 sheets of 20lb paper.
Two interior pockets.