Black & Decker Flash Pro Fast Heat 9.5" Laminator - LAM95FH
127.8
NewCondition InStock
Black & Decker Flash Pro Fast Heat 9.5" Laminator - LAM95FH
Product Description
Black & Decker's new Flash Pro 9.5" Thermal Laminator will give you the results you need. Its Flash Heat Technology means is it is ready to go in just 60 seconds. This sleek, black machine will laminate photos, documents, and crafts up to 9.5" wide with a speed of 24" per minute. There are even three different temperature settings for cold laminating, 3 mil pouches, and 5 mil pouches. And the machine's design itself has everything you need: an integrated corner punch, so you can really add that extra flare to your project without another machine. There is an outfeed tray, integrated cord wrap, and built-in carry handle---no more fighting with your laminators! There is a digital control system with audible alerts and a push-button feature to reverse for fast-clearing whenever there's a jam. And in case you forget to turn off your machine, no worries! It will automatically shut off after 60 minutes of inactivity to save energy and damage. So get creative with your laminating projects, because Black & Decker has your back.
Product Details
Three temperature settings for cold laminating, 3 mil and 5 mil pouches.
Laminates photos, documents and crafts up to 9.5" wide
Flash Heat Technology is ready in just 60 seconds.
Auto shutoff after 60 minutes of inactivity.
Digital Control system with audible alerts.
Push-button reverse easily clears misfed doucments
Outfeed tray catches laminted sheets to help reduce curling
Built-in carry handle provides easy portabiltiy
Integrated cord wrap
Corner punch rounds the sharp edges of laminated documents and provides a more professional finish
UPC: 077914056478
Part Number: LAM95FH
Warranty:2-Year Limited Manufacturer's Warranty
Demonstration Video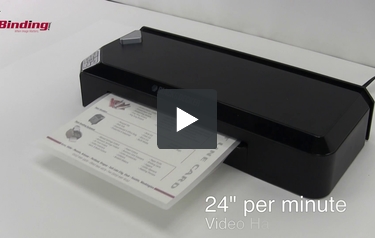 Transcript:
Hey there, welcome to MyBinding video. Let's check out Black and Decker Flash Pro, a 9.5 inch thermal laminator that works with both hot and cold lamination. There's a snazzy control panel on the corner and you choose between cold and hot 3 and 5 mil and this is a corner rounder for that special touch on a special project. It's built for the home and small office. It's great for crafting and keepsakes. This is a pouch laminator so you slide your project into the laminating pouch and that goes into the front of the machine. We always recommend you use carriers with pouch laminating. The feeder ...
Read More
Hey there, welcome to MyBinding video. Let's check out Black and Decker Flash Pro, a 9.5 inch thermal laminator that works with both hot and cold lamination. There's a snazzy control panel on the corner and you choose between cold and hot 3 and 5 mil and this is a corner rounder for that special touch on a special project. It's built for the home and small office. It's great for crafting and keepsakes. This is a pouch laminator so you slide your project into the laminating pouch and that goes into the front of the machine. We always recommend you use carriers with pouch laminating. The feeder opening is 9.5 inches wide so it can handle any standard size document or smaller. It laminates up to 24 inches per minute and has about a 1 minute warm up time so that home or small office that has the occasional yet regular need for laminating items, this could be a great bet. Works with smaller items too like nametags and keepsakes. The cold laminating settings allows you to work with heat sensitive documents such as photos or artwork or inks that may transfer. The built-in corner rounder allows for you to cut corners quite literally making your documents look that much more special. There it is, that's the Black and Decker Flash Pro 9.5 inch Laminator. For more demos, reviews and how to's, check out MyBinding.com