2-Shelf Multi-Purpose Utility Carts
These simple 2 shelf carts are easy to wheel around, and can hold larger items on them. Easily fit a computer or binding machine on the cart to take your work station with you anywhere.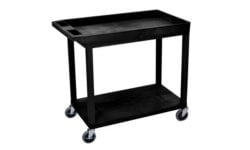 Avialable Colors: Black, Gray
Molded plastic shelves and legs will never rust, dent, scratch or stain.
HDPE (high-density polyethylene) shelves; PVC square legs.
Shelves safely transport goods in 2.5" deep tub area.