Acco PRESSTEX Report Covers
Make the right first impression with the elegant Acco PRESSTEX Report Covers. Not just style without substance, these covers are made from high quality and durable materials that will protect your documents from moisture and damage. The leather embossed surface brings a luxurious accent to the covers and it's enhanced by beautiful colors like light blue, red, or dark green. Need a top or side binding cover? Want a 2'' or 3'' spine thickness? Check out the products listed below to order the perfect product that will complement your projects perfectly!
Acco Presstex Report Covers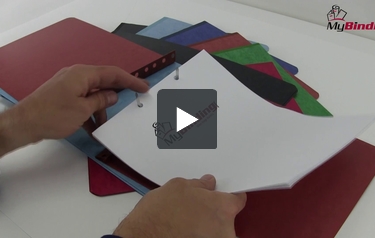 Transcript:
This is MyBinding video. Let's have a look at Acco's PRESSTEX report covers. Coming in a variety of colors and sizes, these PRESSTEX report covers from Acco offer easy to use, durable, recycle covers that resist moisture for ultimate protection and longer life. Easy and quick to use, the free hinged fasteners on these Acco PRESSTEX report covers allow you to simply slip your pages in and fasten in place to quickly make professionally looking documents for reports, presentations, storage or anything else that you may need. These covers also feature a color masked reinforced tyvek hinge that...
Read More
This is MyBinding video. Let's have a look at Acco's PRESSTEX report covers. Coming in a variety of colors and sizes, these PRESSTEX report covers from Acco offer easy to use, durable, recycle covers that resist moisture for ultimate protection and longer life. Easy and quick to use, the free hinged fasteners on these Acco PRESSTEX report covers allow you to simply slip your pages in and fasten in place to quickly make professionally looking documents for reports, presentations, storage or anything else that you may need. These covers also feature a color masked reinforced tyvek hinge that lies flat and stacks easily. Designed for multiple use, multiple sizes and long lasting storage, this is a great buy and that's PRESSTEX report covers by Acco. For more demos, reviews and how to's, check out MyBinding.com