Avery Table of Contents Index Dividers
With every professional presentation or report you need a detailed table of contents that not only gives the required information but also looks great! We have a wide selection of Avery Table of Contents Index Dividers that will make organizing your projects a breeze! You can use any inkjet or laser printer to customize your dividers, but first you need to pick the right size, style and features you prefer! Whether it's the translucent one with multicolor tabs or the Extra-Wide Divider in white, we have them and more! Why not take a look at the Executive Kit? It contains the Table of Contents, index dividers, binder cover sheet and spine insert!
Read more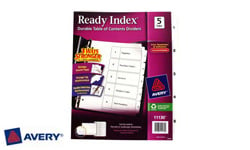 We can\'t find products matching the selection.