Avery Hanging File Storage Binders
Keep your documents safe with these Avery Hanging File Binders that have built-in hangers designed to hold the binder in standard hanging file systems. With strong yet flexible poly covers that are non-stick and practical, these binders also have the Gap Free ring design created by Avery. The spine label will help you spot the binder you need in seconds and save you time! Choose from the elegant black, natural green, ocean blue or fiery red - they all have 1" rings that will lock your documents in place and make it easy to remove or add sheets!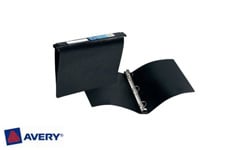 Choose from black, blue, green or red.
1" locking rings and built in holders.
Hold 175 sheets of 20lb paper.
Sturdy, flexible non-stick vinyl covers.