Duplo Paper Folders
Duplo Paper Folders are automatic, compact, and easy to use. Eliminate folding your documents by hand and save both time and money. This paper folders will automatically detects five of the most popular paper sizes from letter, legal, ledger, half letter and half legal, and sets the pre-programmed fold position without any adjustments required. Users can also create custom fold styles with non-standard paper sizes simply by moving the fold plates via the user-friendly control panel and save them into one of its job memories. Take a look at the different options and if you have any questions feel free to give us a call. Our customer service staff is here to help.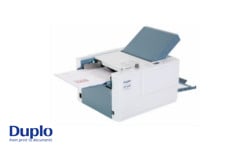 Folds up to 241 sheets per minute.
500-sheet feed capacity.
Performs six of the most common folds and custom folds.
Cross folding feature for right angle folds.