MasterVision Cork Bulletin Enclosed Boards
When it comes to bulletin boards, you can't get a more functional and durable product than a cork board. But this selection of MasterVision Cork Enclosed Boards also adds premium quality and versatility to the list of advantages. Made with self-healing cork surfaces, these boards will look like new for many years to come! Choose the ideal enclosed cork bulletin board for your needs from the options listed below. We carry 1-door, 2-door and 3-door designs. Here you'll also find bulletin boards with a silver and yellow aluminum or with wood frames, as well as products with a compact or a larger size. And the good news is that they're all available at amazing prices!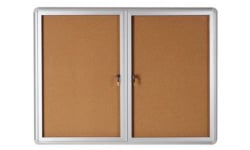 Size: 28" x 38.25" (1-Door)
Frame: Aluminum
Surface Material: Cork
Internal depth: .7 in.