Max Compact Staplers
Finding a high quality low force compact stapler can be extremely difficult. However, with the Max HD-10FL and the Max Viamo line of light effort staplers you can have everything you need. These staplers are extremely popular with coin collectors and dealers for stapling protective coin sleeves because they are easy to use and can easily staple through the cardboard sleeve using one hand. Available in a variety of colors (red, green blue, black and white) they are a great little accessory to keep your desk drawer, briefcase or your laptop bag. Where else are you going to find a small compact unit than easily staple 20 or 35 sheets of paper at a time?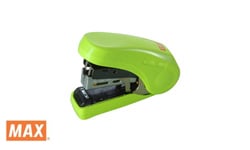 Flat Clinch Mechanism. Clinshes a staple totally flat, allowing neater papers and eliminates finger cuts and clothing snags.
Twin Lever Stapling Mechanism. Unique twin lever mechanism cuts stapling effort by 30%.
Loads 210 standard staples.
Easy grip top section for a more secure hand hold.