Miruna Stitching Wire
The Miruna brand is a trusted source and works hard to professionally bind your books together. If you're in the bookbinding or pamphlet-making business, you can trust Miruna. Noted for its extremely low lead content and with a reputation for great quality, their wire is some of the best on the market. And their machines are heavy duty and easy-to-use. Whether you're making small pamphlets or medium-sized notebooks and booklets, stitching your books is a great way to make strong and professionally-bound booklets. Choose from a variety of gauges and spool sizes for virtually any application.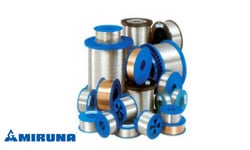 Superior quality, no added lead.
Wire Finish: Round Galvanized Zinc Wire
Packaged in cardboard boxes for greater storage protection.
Available in 5lb up to 70lb spools.

Superior quality, no added lead.
Two basic gauge styles, flat wire and round.
Round wire is available in 18x20 to 21x25 gauge.
Available in 10 or 12 per carton.