Standard Paper Scoring Equipment
With the Standard Paper Scoring Equipment you can achieve exceptional results and experience a significant increase in productivity and efficiency. Discover the right way to score your important papers and printed stock, with a clean and precise fold, even on thinner or fragile paper. Choose from our amazing selection of products below to get the one your organization needs. We carry manual hand creasers that offer an economical way to fold paper, as well as several automatic systems that provide high-volume production and ease of use. Order the one you need today from MyBinding and give us a call if you have any questions.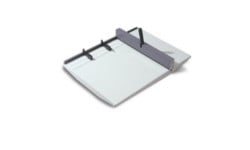 Simple Operation: EasyCreasePro has a clearly marked indicator scale for accurate positioning of each crease.
High Quality Results: To help assure optimal results on virtually any paper stock the operator can select between either of two precision channel-creasing thickness modes.
Convenient Paper Stops: The efficient rotary design Speed-Stops allow for quick changeover and simplify jobs that call for multiple creases.
Convenient Foot Pedal Operation: Electric foot pedal operation increases ease and productivity.