Universal Ring Binder Accessories
Ever had the misfortune to watch an important document rip as you turned the pages in your binder? Universal has thought of the perfect solution for this problem! With these Peel and Stick Hole Reinforcements you can instantly repair any damage to your paper by applying the self-adhesive. Done! Your document is whole again! But you don't have to wait for your files and thin paper to suffer tears or rips! You can apply these adhesives on your most important documents for extra protection and you'll sleep better at night! These 1/4" diameter self-adhesives are available in a pack of 200 - order yours today!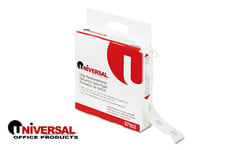 There are no products matching the selection.