C-Line 1" x 6" Magnetic Shelf/Bin Label 10pk - CLI-87227
7.89
NewCondition InStock
C-Line 1" x 6" Magnetic Shelf/Bin Label 10pk - CLI-87227
Product Description
C-Line Shelf/Bin Label offers a great selection of specialty holders and accessories to keep everything from a desk to a warehouse organized and efficient. The magnetic feature offers durable and strong hold that will remain intact on virtually any clean, flat surface. It's simple and easy to use making it perfect to store, organize, present, repair, display and protect everything you need!
Product Details
Magnetic clear plastic holders stick to almost any clean, flat surface
Easy to use open-edge
Removable and repositionable
Includes easy-to-change inserts
Can be easily cut with scissors to required length
Item Specifications
Global Product Type: Bin Label
Pre-Consumer Recycled Content Percent: 0 %
Total Recycled Content Percent: 0 %
Post-Consumer Recycled Content Percent: 0 %
Insert Size: 1 x 6"
Quantity: 10/BX
UPC: 038944872278
Part Number: CL-87227
Demonstration Video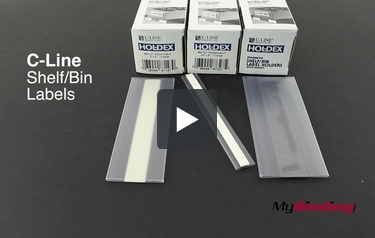 Transcript:
Welcome to MyBinding video. When it comes to organizing your shelves and bins, C-Line's got you covered with Premium Label Holders. They've got three basic styles, the first being a permanent adhesive. You stick it and it stays. The second one is a repositional or removable adhesive. You stick it one place and you can simply bring it right up and stick it again in another place. Now you can only do this a few times for it it to really be effective but it only doesn't pick up residue from paper or boards. And thirdly, there's the magnetic back. These are great. They adhere to your meta ...
Read More
Welcome to MyBinding video. When it comes to organizing your shelves and bins, C-Line's got you covered with Premium Label Holders. They've got three basic styles, the first being a permanent adhesive. You stick it and it stays. The second one is a repositional or removable adhesive. You stick it one place and you can simply bring it right up and stick it again in another place. Now you can only do this a few times for it it to really be effective but it only doesn't pick up residue from paper or boards. And thirdly, there's the magnetic back. These are great. They adhere to your metal shelving, magnetic whiteboards, or anything that magnets stick to. When it comes to sizing, everything is 6" long but has