C-Line 4" x 3" Horizontal ID Badge Holders with Clip 50pk - CLI-89543
11.54
NewCondition OutOfStock
We're sorry, but we no longer offer this item.
Call us at 1-800-944-4573 for personalized recommendations
or check out these similar items that may be a good fit:
C-Line 4" x 3" Horizontal ID Badge Holders with Clip 50pk - CLI-89543
Product Description
Sturdy polypropylene ID card holders are designed to stand up to daily use. Textured, PVC-free material keeps card from sticking. Prepunched for use with strap clips, lanyards, reels, chains and more. Features pre-attached clip to allow the wearer greater versatility. Paper inserts for badge holders not included. Horizontal badge is 4 x 3 in size. 50/PK.
Product Details
Orientation: Horizontal
Color: Clear
Dimension: 4" x 3"
Quantity: 50 per pack
Part Number: CLI-89543
Demonstration Video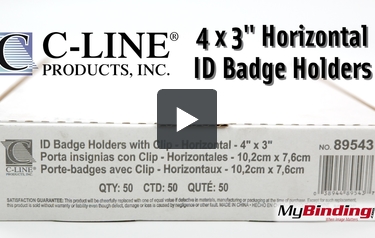 C-Line 4" x 3" Horizontal ID Badge Holders with Clip - 50pk
Transcript:
Welcome to MyBinding Video. These are the 4 x 3" Horizontal ID Badge Holders from C-Line. These sturdy polypropylene holders are designed to stand up to daily use. Textured, PVC-free material keeps your ID cards from sticking to the holder. Each one features a clip to attach to clothing and they're punched along the top for use with a lanyard or neck chain. There are 50 holders in this pack. For more videos and all your binding needs, visit MyBinding.com
Welcome to MyBinding Video. These are the 4 x 3" Horizontal ID Badge Holders from C-Line. These sturdy polypropylene holders are designed to stand up to daily use. Textured, PVC-free material keeps your ID cards from sticking to the holder. Each one features a clip to attach to clothing and they're punched along the top for use with a lanyard or neck chain. There are 50 holders in this pack. For more videos and all your binding needs, visit MyBinding.com