C-Line Clear Poly Side Loading Sheet Protectors 50pk - CLI-62313
12.79
NewCondition InStock
C-Line Clear Poly Side Loading Sheet Protectors 50pk - CLI-62313
Product Description
C-Line Side Load Polypropylene Sheet Protectors are protectors with a unique side loading mechanism that allows a greater control while loading sensitive materials. It is constructed from the durable and tough heavyweight archival polypropylene for outstanding performance in preserving and protecting high-use presentation materials, letters and reports. The clear finish will provide a stylish and professional overview of the document. The heavyweight design will stand up to frequent use, providing the premium long lasting product. You're certain to find a sheet protector that meets your needs, no matter what job you're trying to accomplish. C-Line's sheet protectors are available in a variety of materials and finishes and are designed to protect your documents day after day, no matter how often they're handled. Remember, with all C-Line's top loading sheet protectors-no sheet punching is necessary.
Product Details
Sealed on three sides like top loaders, but papers are inserted from the ring binding edge
Heavyweight material for permanent storage of frequently used documents
Archival quality polypropylene means print won't stick to sheet protectors
Strong, reinforced binding edge prevents tears, even with heavy use
For 11 x 8 1/2 document storage in standard three-ring binders
People Who Viewed Also Viewed
Item Specifications
Global Product Type: Sheet Protectors
Load Orientation: Side-Loading
Number of Holes Punched:3
Thickness/Grade: Heavyweight
Pre-Consumer Recycled Content Percent: 0 %
Total Recycled Content Percent: 0 %
Insert Size: 11 x 8 1/2
Sheet Protector Type: Ring Binder
Material(s): Polypropylene
Finish: Clear
Number of Tabs: 0
Post-Consumer Recycled Content Percent: 0 %
Quantity: 50 Per box
UPC: 038944623139
Part Number: CL-62313
Demonstration Video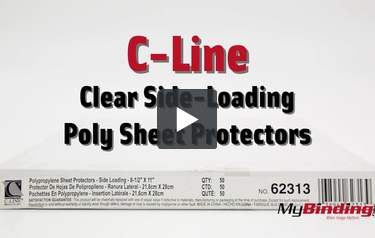 C-Line Clear Poly Side Loading Sheet Protectors
Transcript:
Welcome to MyBinding.com. These are the Clear Side Loading Poly Sheet Protectors from C-Line.

Protect all your important documents with C-Line. These sheet protectors are unique in that they load from the binding edge. They can't slip out from that position and loading and removal is quicker than top loading protectors because of the larger opening. They're made from tough, heavyweight polypropylene to prevent damage and print transfer of your documents. The binding edge is punched for 3-ring binders and reinforced to resist tearing on the rings.

For more videos and all your binding nee ...
Read More
Welcome to MyBinding.com. These are the Clear Side Loading Poly Sheet Protectors from C-Line.

Protect all your important documents with C-Line. These sheet protectors are unique in that they load from the binding edge. They can't slip out from that position and loading and removal is quicker than top loading protectors because of the larger opening. They're made from tough, heavyweight polypropylene to prevent damage and print transfer of your documents. The binding edge is punched for 3-ring binders and reinforced to resist tearing on the rings.

For more videos and all your binding needs, go to MyBinding.com