C-Line Clear Standard Weight Top Load Poly Sheet Protectors 10pk - CLI-5017
1.69
NewCondition InStock
C-Line Clear Standard Weight Top Load Poly Sheet Protectors 10pk - CLI-5017
Product Description
C-Line is proud to offer a broad line of tough, durable sheet protectors made from the highest quality materials. You're certain to find a sheet protector that meets your needs, no matter what job you're trying to accomplish. The standard weight polypropylene sheet protector is designed for durable storage on various documents and reference materials. Archival quality polypropylene which help prevent document from sticking to the sheet protectors. The polypropylene sheet protector features the top loading sheet method to create simplicity and efficiency when it's in use. C-Line sheet protectors are designed to protect your documents day after day, no matter how often they're handled. Remember, with all C-Line's top loading sheet protectors-no sheet punching is necessary.
Product Details
Top loading design eliminates the need for hole punching
Clear finish for the professional and stylish appearence
Archival quality polypropylene means print won't stick to sheet protectors
Strong, reinforced binding edge prevents tears, even with heavy use
For 11 x 8 1/2 document storage in standard three-ring binders
Quantity: 10/PK
UPC: 038944050171
Part Number: CL-05017
People Who Viewed Also Viewed
Demonstration Video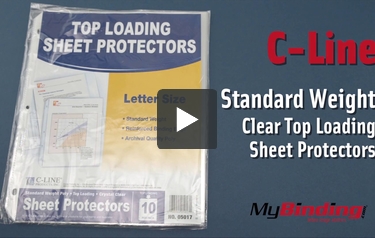 C-Line Clear Standard Weight Top Load Poly Sheet Protectors
Transcript:
Welcome to MyBinding.com. These are the Standard Weight Top Load Poly Sheet Protectors from C-Line.

For frequently handled documents, give them lasting protection with C-Line's sheet protectors. Made from acid-free, archival quality polypropylene, these protectors will persevere your documents without degradation and print transfer. The poly material is crystal clear to allow viewing from any angle. These protectors have a reinforced binding edge to keep your protector inside your binder without tearing out on the rings. Each protector can hold several pages and you don't need to 3-hole pun ...
Read More
Welcome to MyBinding.com. These are the Standard Weight Top Load Poly Sheet Protectors from C-Line.

For frequently handled documents, give them lasting protection with C-Line's sheet protectors. Made from acid-free, archival quality polypropylene, these protectors will persevere your documents without degradation and print transfer. The poly material is crystal clear to allow viewing from any angle. These protectors have a reinforced binding edge to keep your protector inside your binder without tearing out on the rings. Each protector can hold several pages and you don't need to 3-hole punch your pages anymore. Keep your documents looking like new with C-Line's sheet protectors.

For more videos and all your binding needs, go to MyBinding.com