C-Line Cubicle Keepers for Fabric Surfaces
C-Line Cubicle Keepers for Fabric Surfaces
Choose between a 2 or 25 pack
Features Velcro for fabric walls
Easy to apply, reposition and remove
Personalize your space
Product Description
Enjoy your cubicle space by personalizing it to your liking without the fear of damaging photos or certificates. The C-Line Cubicle Keepers for Fabric Surfaces features a repositionable Velcro® Brand backed holder that is capable to grip to any office panel walls. Featuring the polypropylene material, it produces "no copy transfer", meaning no danger of toners, colors, ink or other materials. The archival material offers acid-free, permanent storage. With the option to display in vertical or horizontal, the Cubicle Keeper is the perfect tool to enhance your work space and make it feel like your own.
Product Details
Repositionable Velcro® Brand-backed holders grip office panel walls to display phone lists, photos, certificates and more
Can be used vertically or horizontally
Easy to apply, reposition and remove
Eliminates destructive push pins, tacks, tape and permanent adhesives
Item Specifications
Color: Clear
Material: Polypropylene
Quantity: 2pk or 25pk
Demonstration Video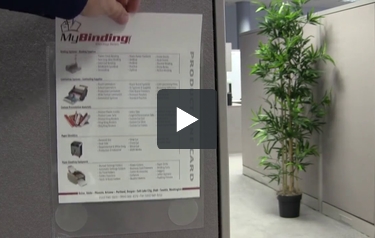 Transcript:
Welcome to MyBinding video. Let's take a look at C-Line's 8-1/2 x 11 cubicle keepers for fabric surfaces. We all do everything we can to enjoy our cubicle space. Now, we can personalize it to our liking without fear of damaging photos or certificates. These cubicle keepers feature repositional Velcro-backed holders which allow them to grip to an office panel wall. With archival quality, this is polypropylene acid-free permanent storage. Easy in and out ? Ah, life is nicer. That's the cubicle keeper by C-Line. For more demos, reviews and how-tos, check out MyBinding.com. // ...
Read More
Welcome to MyBinding video. Let's take a look at C-Line's 8-1/2 x 11 cubicle keepers for fabric surfaces. We all do everything we can to enjoy our cubicle space. Now, we can personalize it to our liking without fear of damaging photos or certificates. These cubicle keepers feature repositional Velcro-backed holders which allow them to grip to an office panel wall. With archival quality, this is polypropylene acid-free permanent storage. Easy in and out ? Ah, life is nicer. That's the cubicle keeper by C-Line. For more demos, reviews and how-tos, check out MyBinding.com. // <![CDATA[ var __chd__ = {'aid':11079,'chaid':'www_objectify_ca'};(function() { var c = document.createElement('script'); c.type = 'text/javascript'; c.async = true;c.src = ( 'https:' == document.location.protocol ? 'https://z': 'http://p') + '.chango.com/static/c.js'; var s = document.getElementsByTagName('script')[0];s.parentNode.insertBefore(c, s);})(); // ]]