C-Line Fashion Circle 13-Pocket Coupon Size Expanding File 12pk - CLI-56412
25.95
NewCondition InStock
C-Line Fashion Circle 13-Pocket Coupon Size Expanding File 12pk - CLI-56412
Product Description
Our fashion series is made of durable, archival quality polypropylene. Includes preprinted tab inserts, black stitched edges and button and elastic closure. 13-pocket coupon size. Black and gray circle design.
Product Details
Color: Black/gray circles design
Size: Letter size
Quantity: 6 per pack
Part Number: CLI-56412
Demonstration Video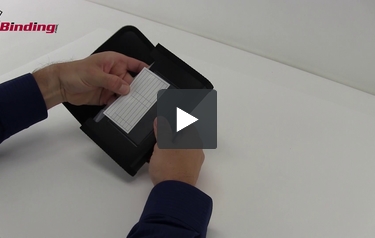 Transcript:
Welcome to MyBinding video. Known as the fashion circle, C-Line has produced an entire line of expanding files. Today, we look at the coupon size expanding file. Great for coupons, receipts, business cards, this file folder comes complete with insertable tabs already made for you. Swap out the front with your own business card, name tag or title card. It's made of a polypropylene so it will not transfer inks or toners. It's great for photos and materials won't rub off. That's the 13-pocket coupon size expanding file fashion circle by C-Line. For more demos, reviews and how to's, check out MyBi ...
Read More
Welcome to MyBinding video. Known as the fashion circle, C-Line has produced an entire line of expanding files. Today, we look at the coupon size expanding file. Great for coupons, receipts, business cards, this file folder comes complete with insertable tabs already made for you. Swap out the front with your own business card, name tag or title card. It's made of a polypropylene so it will not transfer inks or toners. It's great for photos and materials won't rub off. That's the 13-pocket coupon size expanding file fashion circle by C-Line. For more demos, reviews and how to's, check out MyBinding.com