Count EZCreaser Digital Creasing Machine
Count EZCreaser Digital Creasing Machine
Paper Feed: Friction
Max Numbering Speed (sheets per hour): 4,500
Max Linear Perf/Score Speed (sheets per hour): 12,000
Paper Weight Range (gsm): 60 - 350
Product Description
Designed to accommodate today's digitally produced finishing demands, the Count EZCreaser Digital Creasing Machine is made with durable parts and quality workmanship with one of the best warranties in the industry. The EZCreaser efficiently applies a rotary actuated compression crease, leaving a crisp, sharp score with no cracking of the printed image after the fold on either side of the crease. Count's proven, dependable microprocessor controls the stepper motor driven transport with exactness and precision. Precision and versatility are the hallmarks of the Count EZCreaser, with score positions controlled to 1/100th of an inch and micro-lateral adjusted feed rails. Contact MyBinding today to learn how Count's EZCreaser can improve production in your print finishing operation today.
Product Details
Offers a reliable top-load friction paper feed.
Rotary actuated impact creasing.
Automated Distance Recognition allows auto setups for your most common creases and corresponding folds, including perfect bind.
Comes standard with rotary perf wheel assembly.
Optional micro-perf and score wheel assemblies are available.
Includes micro-lateral adjustable feed rails and sheet counter (batch and total counting).
Add the COUNTâ"¢ KF-200 or another inline folder.
Add the optional inline transport to feed directly into the COUNT CountCoat or other UV coaters.
Two-sided creasing die- one side has a narrow crease and the other a wide crease for heavier stock- to change, simply remove the die and flip it over.
User-friendly touch screen for easy set up and control of the machine.
180 Day Manufacturer's Warranty.
Item Specifications
Model: EZCreaser
Model No.: EZCREASER
Paper Feed: Friction
Weight: 144 lbs (66 kg)
Max Numbering Speed (sheets per hour): 4,500
Max Linear Perf/Score Speed (sheets per hour): 12,000
Paper Weight Range (gsm): 60 - 350
Dimensions: 47" L x 29" W x 22" H (119.4 x 74 x 56 cm)
Max Sheet Size: 18" x 24" (45.7 x 50.8 cm)
Min Sheet Size: 4.5" x 4.5" (7.6 x 12.7 cm)
Electrical: 115 V, 60 Hz, 20 A or 230 V, 50 Hz, 20 A
Made in: U.S.A.
Manufacturer's Warranty: 180 Day
Demonstration Video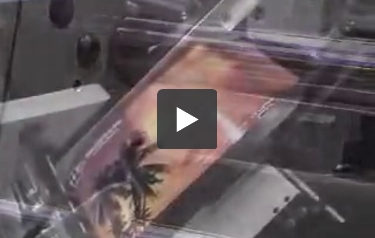 Transcript:
Presenting Count EZ Creaser. Exact registration. See the difference.
Presenting Count EZ Creaser. Exact registration. See the difference.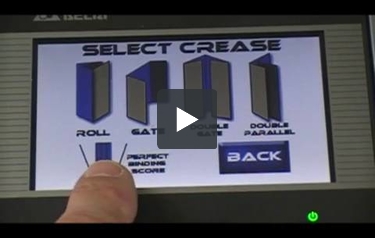 EZCreaser Touch R1 by Count Machinery Company
Transcript:
EZCreaser Touch R1 by Count Machinery Company
Select Crease
Measure sheet length
Crease Mode
EZCreaser Touch
Perf mode
Crease mode
Feeder mode

EZCreaser Touch R1 by Count Machinery Company Select Crease Measure sheet length Crease Mode EZCreaser Touch Perf mode Crease mode Feeder mode