Pivano Replacement Blades
Have you been looking everywhere for a blade for your Pivano paper cutter. You are in luck, we carry these babies in stock and ready to ship. Available for a number of different models including The FG103, FG108 and FG118, these knives are made from the highest quality German steel and are designed to provide a precision cut every time. Choose either a standard steel inlay blade or a high speed steel depending on your application. Just find your model listed below and make sure that the length and holes match.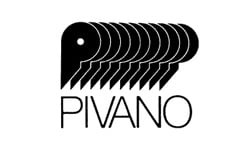 Material: Standard Inlay
Holes: 33
Length: 54.924"
Width: 5.709"

Type of Blade: High Speed Steel
Dimensions (L x W x T): 54.924" x 5.709" x .471"
Holes/Slots: 33H
Hole Size: M12x1.5"