Fellowes Executive Navy Oversize Binding Covers 50pk - 52145
21.49
NewCondition InStock
Fellowes Executive Navy Oversize Binding Covers 50pk - 52145
Product Description
With these Fellowes Executive binding covers are made from an embossed vinyl material that is designed to provide a distinctive leather-like look. Fellowes Executive binding covers are available in your choice of two stylish colors: black or navy blue. These covers measure 8.75" x 11.25" and have rounded outside corners to add a distinctive look to all of your reports, presentations and proposals.
Product Details
Item Number: 52145
Cover Type: Executive Covers - 60lb. Vinyl leather-textured finish
Color: Navy Blue
Size: Oversize (8.75" x 11.25")
Punching: None
List Price: $38.99
Quantity Per Pack: 50 Covers
UPC Code: 077511521454
People Who Viewed Also Viewed
Demonstration Video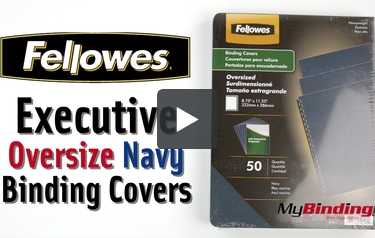 Fellowes Executive Navy Oversize Binding Covers - 50pk
Transcript:
Welcome to MyBinding.com. These are the Executive Oversize Navy Binding Covers from Fellowes. Give your presentations the professional look they deserve with Executive binding covers. The distinct leather like finish feels authentic in your hands and reflects gently under the light. These oversize covers give your pages excellent protection with an extra quarter inch on all sides to keep your corners from getting dog eared. This set comes unpunched, or prepunched to any standard binding specification. You can even add a window punch and business card slits. For more videos and all your binding ...
Read More
Welcome to MyBinding.com. These are the Executive Oversize Navy Binding Covers from Fellowes. Give your presentations the professional look they deserve with Executive binding covers. The distinct leather like finish feels authentic in your hands and reflects gently under the light. These oversize covers give your pages excellent protection with an extra quarter inch on all sides to keep your corners from getting dog eared. This set comes unpunched, or prepunched to any standard binding specification. You can even add a window punch and business card slits. For more videos and all your binding needs, go to MyBinding.com