Find-It Gapless Loop 5" White 3-Ring View Binder - 1pk
22.41
NewCondition InStock
Find-It Gapless Loop 5" White 3-Ring View Binder - 1pk
Product Description
This Find-It gapless loop ring view binder utilizes unique gapless one-piece loop rings that make page turning smooth. The rings on this binder can fold flat so your binder takes up less space when it is stored empty. The rings on this binder snap into a secure base that keeps the binder from opening when dropped. That means that your papers stay exactly where they belong. Every Find-It Gapless binder allows you to create customized inserts for the front cover and spine for a professional presentation. Each Find-It gapless binder has one interior pocket for safely storing loose sheets.
Product Details
Binder Type: Ring Binder
Binder Style: View
Color(s): White
Sheet Size (W x H): 8 1/2 in x 11 in
Fastener Style: Loop Ring
Inside Pockets: One Front
Inserts: Back Cover, Front Cover, Spine
Maximum Capacity: 5 inches
Sheet Capacity: 1050
Binding Edge: 11" Side
Number of Fasteners: 3
Material(s): Vinyl
Binder Special Features: One-Piece Loop Ring
Part Number: IDE-SNS01705
People Who Viewed Also Viewed
Demonstration Video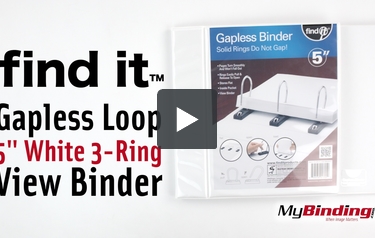 Find-It Gapless Loop 5" White 3-Ring View Binder - 1pk
Transcript:
Welcome to MyBinding Video. These are the Gapless Loop 5" White 3-Ring View Binders from Find-It. When you need to bind a ton of pages bound together securely, you need a gapless loop binder. This genius design is incredibly strong and functional, and as you can see it packs flat when empty. To load the binder, turn the three metal hooks straight up so they'll slip easily through the hole punches. This binder is rated to hold 1050 pages, that's over two whole reams of paper. When you've finished loading, pull the hooks upward and fit the ends into the locks on the spine. Release the hooks by p ...
Read More
Welcome to MyBinding Video. These are the Gapless Loop 5" White 3-Ring View Binders from Find-It. When you need to bind a ton of pages bound together securely, you need a gapless loop binder. This genius design is incredibly strong and functional, and as you can see it packs flat when empty. To load the binder, turn the three metal hooks straight up so they'll slip easily through the hole punches. This binder is rated to hold 1050 pages, that's over two whole reams of paper. When you've finished loading, pull the hooks upward and fit the ends into the locks on the spine. Release the hooks by pulling out and up. I honestly don't know how much I fit in there, it was all the punched paper I could find and the binder held up perfectly. These binders are sold individually. For more videos and all your binding needs, visit MyBinding.com