Single Spindle Paper Drills
Single spindle paper drills can cleanly drill a hole through a stack of paper. With a single bit, you can put a hole wherever you need.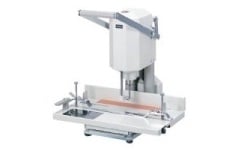 The most economical 2" capacity table-top drill on the market
Stationary table with an adjustable back-gauge slide guide system
Product moves accross the table for easy multi-hole drilling
Ideal for offices, schools and small print operations

2-1/2" lift capacity in 4 different drill bit sizes (1/4", 5/16", 3/8", 1/2"). Machine can be converted to a 2" maximum lift capacity for a wider range of available hole sizes (1/8" to 1/2").
Safe to operate - Spindle motor automatically turns on when the pull-down lever is moved and automatically switches off when the lever returns to the up position.
Conveniently located chip collector cups - Located around the spindle, they include a sight gauge to signify when the cups are full and need to be emptied. The cups also serve as safety covers with interlock switches.
Adjustable backgauge stops - The backgauge includes 4 adjustable stops for drilling multiple hole pattern jobs. Just flip the switch and move your pile to the next setting.