Handheld Manual Pencil Sharpeners
Pencil sharpening has never been simpler with a hand held pencil sharpener. Unlike hand crank sharpeners, and their electric counterparts, hand held sharpeners don't jam! So even if your kids jam their crayons in there, you can still use the sharpener. We also offer some professional sharpeners for architects, for both your pencils, and lead sharpeners for your mechanical pencils. We have the best school and professional pencil sharpeners!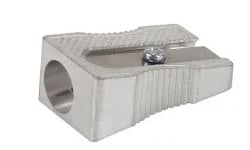 Features a cone receptacle for pencil shavings.
Designed for use with standard-size pencils.
Plastic construction.
Assorted colors.

Fast, simple "twist" pencil sharpening.
Adjust for a pointed or blunt pencil tip.
Tip Saver Technology prevents oversharpening.
Easy clean tray captures loose shavings.