Formax AutoSeal FD 2002 Mid-Volume Pressure Sealer
6795.00
NewCondition OutOfStock
Sorry, but Formax AutoSeal FD 2002 Mid-Volume Pressure Sealer is no longer available to buy.
We think you might like one of these instead:
Formax AutoSeal FD 2002 Mid-Volume Pressure Sealer
Product Description
The FD 2002 AutoSeal pressure sealer is a powerful desktop model designed to process pressure sensitive self-mailers. An easy to use touch-pad control panel and three-roller drop-in feed system make this product both practical and dependable. Standard features include a six-digit counter, jog control, fault detection, and LED indicators. Up to 250 forms can be loaded in the hopper and processed at speeds up to 8000 forms per hour. The FD 2002 also has an optional fully enclosed cabinet for storage and an 18" or 4' conveyor with photo-ryr for neat and sequential stacking of processed forms. The FD 2002 handles a variety of documents up to 8-1/2" x 14" including checks, invoices, school reports, tax forms and appointment notices.
Product Details
Drop in Feed System: A drop-in three roller feed system produces dependable feeding of forms with no paper fanning required
Six-Digit Resettable Counter: Provides maximum audit control
Paper Jog Control: Allows operators to jog forms through before operation
14" Form Length Capability: Flexibility to process even and uneven panel forms length to 14"
Desktop Design: Sleek desktop design made with office usage in mind
LED Indicators: Notifies the aperator when the power is on, a cover is open, the paper runs out and if a fault occurs
Noise Reduction: Top and side covers are insulated to reduce operating noise
Fold Types: C, Z, V, uneven C and Z, custom folds
Item Specifications
Hopper Capacity: Up to 250 sheets of 24lb
Fixed Speed: Up to 8000 sheets per hour, based on 11" Z fold
Duty Cycle: Up to 50,000 pieces per month
Paper Size: Up to 8.5" W x 14" L
Power: 120 Volts AC 50/60Hz
Dimensions: 25.75" W x 16.5" L x 14.25" H
Dimensions w/18" Conveyor Belt: 22" W x 46" L x 44" H
Document Sequence: Standard sequence is A-to-Z input, Z-to-A output
Weight: 88.5 lbs
Certifications: UL and CUL Approved, CE Applied for
Warranty:

90 day limited warranty on parts.
Excluding wearables and labor.
Demonstration Video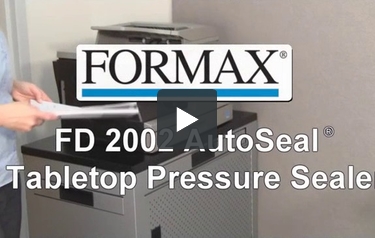 Transcript:
Easy Setup
Fast!
Proven
Made in the USA
FD 2002 Autoseal Tabletop Pressure Sealer
Forms are folded, sealed & ready for the mail in one easy step!
FD 2002 folds and seals up to 8,000 forms per hour
The optional conveyor keeps forms in a neat and sequential order
Fold and seal a variety of pressure seal forms up to 8.5" x 14"
Eliminate the cost and storage of envelopes

Setup and Operation
To begin open the top cover to set the top fold plate
Slide the fold stop to the correct fold setting and turn the fine tune knob precisely set the fold
Repeat the same process to set the lower f ...
Read More
Easy Setup Fast! Proven Made in the USA FD 2002 Autoseal Tabletop Pressure Sealer Forms are folded, sealed & ready for the mail in one easy step! FD 2002 folds and seals up to 8,000 forms per hour The optional conveyor keeps forms in a neat and sequential order Fold and seal a variety of pressure seal forms up to 8.5" x 14" Eliminate the cost and storage of envelopes Setup and Operation To begin open the top cover to set the top fold plate Slide the fold stop to the correct fold setting and turn the fine tune knob precisely set the fold Repeat the same process to set the lower fold plate Or for a half fold turn the fold plate around and insert the deflector as shown here With the fold plates set load printed Pressure Seal Forms by lifting the tray Press the jog button to fold and seal a test form Check the test form… All set… Press the green start button to begin processing forms In no time forms are folded, sealed and ready for the mail The resettable counter keeps an accurate count of forms processed Fd 2002 AutoSeal Tabletop Pressure Sealer