GBC Round Ring Economy Black Binders (12 pk)
GBC Round Ring Economy Black Binders (12 pk)
Black 8 guage vinyl cover.
Six sizes 1/2", 1", 1-1/2", 2" and 3"
Hold from 100 to 300 sheets of 20lb paper.
2 deep 3-1/2" interior pockets and back mounted rings.
Product Description
GBC Economy Round Ring Binders are an excellent, low cost, multipurpose binder. Economy binders are ideally suited for in-house documents such as reference materials, reports and more. These GBC Economy Round Ring Binders are only available in black and do not have a clear overlay on the front back and spine for inserting title pages and spine information.
Demonstration Video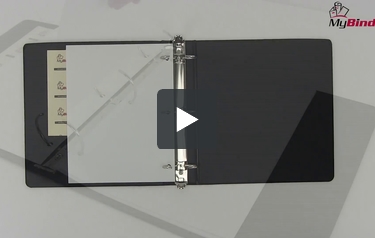 Transcript:
This is MyBinding video. Let?s have a look at GBC?s 2 inch Round Ring Economy Black Binder. As you would expect, not all that exciting but it is a binder and you need some. So this is 2 inches, it?s cheap and it seems to work just fine. There are 2 deep, 3
This is MyBinding video. Let?s have a look at GBC?s 2 inch Round Ring Economy Black Binder. As you would expect, not all that exciting but it is a binder and you need some. So this is 2 inches, it?s cheap and it seems to work just fine. There are 2 deep, 3
Sizing Guide
| | | | |
| --- | --- | --- | --- |
| Size | Part Number | Sheet Capacity | Fastener Style |
| | | | |
| 1/2" | 8313020 | 100 Sheets | Round Ring |
| | | | |
| 1" | 8313021 | 250 Sheets | Round Ring |
| | | | |
| 1-1/2" | 8313022 | 375 Sheets | Round Ring |
| | | | |
| 2" | 8313023 | 480 Sheets | Round Ring |
| | | | |
| 2-1/2" | 8313024 | 100 Sheets | Round Ring |
| | | | |
| 3" | 8313025 | 600 Sheets | Round Ring |