GBC SelfSeal Repositionable 3-ring Prepunched Pouches - 5pk
9.09
NewCondition InStock
GBC SelfSeal Repositionable 3-ring Prepunched Pouches - 5pk
Product Description
These GBC SelfSeal Repositionable Laminating Pouches are already prepunched for use with your 3-ring binder. They are a great choice to preserve and protect your important documents, certificates, and printed material. These SelfSeal Repositionable Pouches measure 11-9/16" X 9-1/4". They are easy to use and they are acid free, (archival quality). There are 5 pouches per package.
Product Details
Size: Letter Size Peel-n-Stick
Dimensions: 11-9/16" x 9-1/4"
Thickness (Gauge): 8mil
Quantity: 5 Per Pack
Prepunched for 3-ring.
GBC Part Number: 3747194
Primary UPC: 03381606559
People Who Viewed Also Viewed
Demonstration Video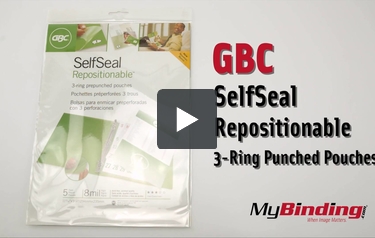 GBC SelfSeal Repositionable 3-ring Prepunched Pouches
Transcript:
Welcome to MyBinding.com. These are the SelfSeal Repositionable 3-ring Prepunched Pouches from GBC.

For documents that see lots of use and require lasting protection, use these SelfSeal Pouches. Punched for 3-ring binders and made with archival quality, 8mil thickness poly material, they're easy to store in binders and will stay like new after lots of handling. Open the pouch and slide your document inside, facing the non-adhesive side. Peel off the thin, inside strip to hold the document when its aligned, then peel off the rest of the adhesive cover. Don't worry if you mess up, the reposit ...
Read More
Welcome to MyBinding.com. These are the SelfSeal Repositionable 3-ring Prepunched Pouches from GBC.

For documents that see lots of use and require lasting protection, use these SelfSeal Pouches. Punched for 3-ring binders and made with archival quality, 8mil thickness poly material, they're easy to store in binders and will stay like new after lots of handling. Open the pouch and slide your document inside, facing the non-adhesive side. Peel off the thin, inside strip to hold the document when its aligned, then peel off the rest of the adhesive cover. Don't worry if you mess up, the repositionable adhesive allows you to peel it back off and reset your document without damaging it. Press down firmly around the edges to seal the pouch and you're good to go.

For more videos and all your binding needs, go to MyBinding.com