Avery Super Heavyweight Sheet Protectors Non-Glare 50pk - 74131
14.49
NewCondition InStock
Avery Super Heavyweight Sheet Protectors Non-Glare 50pk - 74131
Product Description
When you need truly excellent protection of your papers, depend on these Avery Super Heavyweight Sheet Protectors. They are super convenient, storing up to 10 sheets of 8-1/2" x 11" paper in each page. The Avery Easy Load feature delivers a wider top opening, allowing you to slide pages into place quickly and easily. Non-Glare material reduces distracting glare and is acid free and archival safe to keep print on your papers where it belongs, rather than sticking to the plastic. With these dependable sheet protectors, your work will be strong and solid.
Product Details
Stores and protects 8-1/2" x 11" papers
Acid free and archival safe for maximum protection
Non-Glare
Super Heavyweight
Easy Load feature lets you insert papers quickly
UPC: 077711741317
Part Number: AVE-74131, 74131
People Who Viewed Also Viewed
Demonstration Video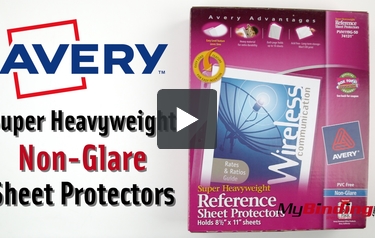 Avery Super Heavyweight Sheet Protectors Non-Glare (50pk)
Transcript:
Welcome to MyBinding.com. These are the Super Heavyweight Non-Glare Sheet Protectors from Avery. When you need the best in protection for frequently handled documents, use super heavyweight sheet protectors. They're made from archival quality poly to prevent copy transfer, sticking and degradation. These protectors even feature an easy load top left corner, allowing the top to open a little more and make loading simpler, and the reinforced binding edge will hold up to years of turning on binder rings. This pack comes with 50 sheet protectors. For more videos and all your binding needs, go to M ...
Read More
Welcome to MyBinding.com. These are the Super Heavyweight Non-Glare Sheet Protectors from Avery. When you need the best in protection for frequently handled documents, use super heavyweight sheet protectors. They're made from archival quality poly to prevent copy transfer, sticking and degradation. These protectors even feature an easy load top left corner, allowing the top to open a little more and make loading simpler, and the reinforced binding edge will hold up to years of turning on binder rings. This pack comes with 50 sheet protectors. For more videos and all your binding needs, go to MyBinding.com