Intimus 60 CP5 Micro Cut Paper Shredder - 279174S1
1035.09
NewCondition InStock
Intimus 60 CP5 Micro Cut Paper Shredder - 279174S1
Product Description
Designed for five plus users, the Intimus 60CC4 is a safe and nearly silent micro cut shredder. The 60CC4 can shred up to 11 sheets at once into 5/64" x 19/32" security level 4 micro cut pieces. Plus, this multi functional shredder destroys paper, cds, dvds, floppy disks, staples, paper clips and credit cards. The Dynamic Load Sensor prevents jams from occuring by alerting the user when too much paper is about to be inserted. The 60CC4 is user friendly thanks to the i-control function panel, integrated auto reverse function, 2 x 2 cut and collect system for separate digital media waste, Silentec innovative sound dampening principle, and EcoLogic for greater energy efficiency.
Product Details
Dustproof enclosed cabinet
Mounted on rollers for flexible use
Material: shock resistant plastic, wood
Integrated Auto Reverse Function
Shreds staples, paper clips, credit cards, floppy disks, CDs/DVDs
Dynamic Load Sensor for controlled performance
iControl user-friendly function control
Silentec innovative noise insulation
2x2 Cut & Collect segregates materials
EcoLogic energy efficiency
Item Specifications
Cutting size paper: 5/64 x 19/32 inches
Security level DIN 32757-1: P-5 (Old Level 4)
Shredding capacity 70 g/m²: 11 sheets
Cutting speed 70 g/m²: 16 ft./min.
Cutting speed 70 g/m²: 210 sheets/min.
Shredding capacity 80 g/m²: 6 sheets
Cutting speed 80 g/m²: 16 ft./min.
Cutting speed 80 g/m²: 178 sheets/min.
Working width: 10.25 inches
DIN paper size: A4
Catchbasket volume: 15.9 gallons
Supply voltage: 115 Volt
Noise level: < 55 db(A)
Weight Net: 75 lbs
Width: 16.5 inches
Depth: 15.4 inches
Height: 30.3 inches
Warranty:

2 years Manufacturer's Warranty on parts and 90 days Manufacturer's Warranty on labor.
lifetime limited Manufacturer's Warranty for fracture of the cutting cylinders.
Demonstration Video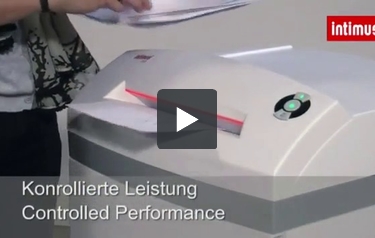 Martin Yale Intimus 45, 60 and 90 Office Shredders Demo Video
Transcript:
Intimus 45/60/90 Office Shredders. I-control – Transparency of work flow. DLS – Dynamic Load Sensor. Controlled Performance. 2 x 2 Cut and Collect. Segregation of materials. Intimus.
Intimus 45/60/90 Office Shredders. I-control – Transparency of work flow. DLS – Dynamic Load Sensor. Controlled Performance. 2 x 2 Cut and Collect. Segregation of materials. Intimus.
Staff Review
Intimus 60CC4 5/64" x 19/32" Micro-Cut Shredder Review
Intimus is one of the country's most respected paper shredder manufacturers. The company consistently puts out first-rate machines that are great for professional use, so it's a brand to look for when you need to get a new shredder. One of their machines is the 60CC4, a device that can provide you with a lot of security. Let's take a look at its special features to determine if it's right for you:
Strengths:
The 60CC4 is a micro-cut shredder that is capable of turning your documents into shreds that measure just 1/16" x 9/16". The machine has a level 4 security rating so you will be able to keep your company's private information out of the public eye.
This machine has a 10.25-inch feed opening so you can shred both large and small documents such as business cards, receipts, and invoices. You can leave the staples and paper clips attached to the documents which will help you save time during a busy workday.
The 60CC4 can shred more than just paper. This machine's cutters are strong enough to handle a few types of multimedia items including CD's, DVD's, and floppy disks. You can also shred credit and debit cards with this device which can help you protect your bank and credit accounts. Note that this shredder has a 2 x 2 system to keep the plastic and paper shreds from becoming mixed.
If you ever try to shred more sheets than the machine can handle, the Dynamic Load Sensor will alert you so you can remove the extra sheets. This prevents paper jams from occurring. If a jam does occur while you're shredding, the machine's auto reverse mode will help you clear the problem.
The 60CC4 operates quietly thanks to Silentec technology. Also, you will find this machine easy to use since there is an iControl interface right on the top of it.
Finally, this shredder has a 16-gallon waste bin so it's good for small office use. The bin sits in a dust-proof cabinet.
Weaknesses:
Since the 60CC4 is a micro-cut shredder, it needs to work twice as hard to turn your paper and multimedia items into tiny bits. Due to this, it only has a 11-sheet shredding capacity. This might be problematic if you need to regularly destroy large amounts of paper.
This shredder is a bit on the large size thanks to its approximate dimensions of 16" x 15" x 30". You probably won't be able to store it under a desk or table, so make sure you have enough room for it. If you ever need to move the machine, it's built-in casters will come in handy.
As you can see, the Intimus 60CC4 has many more strengths than weaknesses. The machine's main weakness