What are some uses for index tabs?
Managing paper is part of all of our lives. We all have important documents we need to keep on hand. For some of us, they are assignments, handouts, and homework. For others, they are medical bills, insurance forms, and benefit statements. For others still, they are invoices, receipts, and schedules. Regardless of what types of documents you need to organize, a great way to sort them out and keep them tidy is through the use of index tabs.
Index tabs are used to divide documents into manageable sections, allowing you to quickly locate the page you're looking for. They also help others (who may not be familiar with the document) to find their way through documents you have created.When you begin to think about index tabs and how they can help to organize your document, you should think about how the document will be used. Ask yourself what users of the document will be looking for, what questions they will seek answers for as they look at your document. Index tabs are designed to help people find information quickly, so you should choose your section names with care. As a rule of thumb, it is more helpful to err on the side of too many index tabs than it is to have too few. The fewer index tabs you have, the longer it will take users to find the information they need. In business situations, this type of delay can mean upset customers and definitely means decreased productivity.
These days index tabs come in a variety of styles and sizes. We no longer have to rely on those puny index tabs we used in school, the ones with barely enough room to write on and that we had to push into the plastic opening without losing them or crunching them up. Index tabs are available in clear, frosted, plain paper, and colored Mylar. You can even print professional looking tabs right from your desktop printer or you can have customized tabs professionally printed for you. There is no longer a one-size-fits-all approach to index tabs. Index tabs can be selected based on the needs of you and your readers.
Potential uses for index tabs include:
Accountants
Invoices
Receipts
Contact lists
Payment calendars
Managers
Training manuals
Employee records
Attendance and behavior records
Emergency Procedures
Contact lists
Salespeople
Client lists
Contact calendars
Product information
Teachers
Lesson plans
Grade books
Attendance and behavior records
Club records
Student portfolios
Students
Notes
Assignments
Correspondence
Individuals
Health records
Academic records
Financial records
Warranties
Babysitter's guide
Maintenance records for home and auto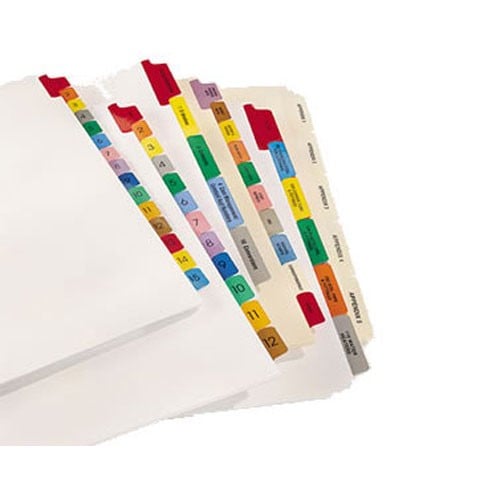 Related
Knowledgebase Articles
Can I use wire with my comb binding machine?
Krish Technologies posted this on Jul 8, 2015
< Over the years, a number of customers have asked me whether they can use twin loop wire with their plastic comb binding machine. These customers often don't want to have to buy a brand new machine but like the look and feel of twin loop wire binding. However, the answer to their question isn't as simple as it seems. You see, they actually do make twin loop wire that is designed to work with the plastic comb binding hole pattern. With that said, if you want to use these wires you are going to need a way to close the wires. What is Spiral-O Wire?Let me explain a little bit more…There is a product that we carry called Spiral-O Wire. This wire has 19 loops and is designed to work with the hole pattern from a plastic comb binding machine. Spiral-O Wire is sometimes called Wire Combs or Ibico Wire and was originally designed for use with some of the older Ibico binding machines. A number of the older Ibico plastic comb binding machines also included a twin loop wire closer on the front of them to allow users to use both plastic combs and wire. This 19 loop wire was designed for this purpose.What Equipment is Needed? As the Ibico brand has been phased out by GBC and all of the older Ibico plastic binding machines have been replaced with new models, they no longer have the twin loop wire closer on the front of them. This presents a problem in trying to use these spiral-o wires since you can't use the wires without a way to close them.One of the only options left is to purchase a Twin Loop wire closer. However, since twin loop wire closers are not incredibly cheap this option usually only appeals to users who have larger electric plastic comb binding machines. Otherwise, it is often advisable to simply buy a low end 3:1 pitch twin loop wire binding machine (the supplies are cheaper). This being said, if you have one of the older Ibico binding machines that has a wire closer included you are in luck. The Spiral-O binding supplies that we carry will work perfectly with your machine and you will be able to use both plastic combs and wire depending on your needs. These Spiral-O binding supplies are available in Black, Silver, White, Blue and Red and in sizes up to 1″ in diameter.If you aren't sure what type of wire binding supplies that you need to work with your machine simply give us a call. Our trained sales representatives will be glad to help you find the correct supplies for use with your machine.(Read More)