ID Badge Laminators
Often referred to as badge laminators these pouch laminators have throat openings between 4-6 inches in width. This makes them ideal for laminating id badges, business cards, name tags and photos. Basic units are available for occasional use with 5mil pouches. Or choose a heavy duty units that can laminate 10mil pouches. There are all sorts of options from great manufacturers including Fellowes, GBC, Tamerica and Kleer-Lam. Order yours today, just don't forget to order the supplies.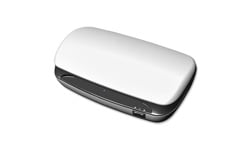 Lamination Thickness: 10mil
Laminating Width: 6"
Warm Up Time: 5 minutes
Lamination Speed: 26" / min.