3" x 5" Photo Size Cold Laminating Pouches
Protect photographs and prints in a few seconds with the help of these practical 3'' x 5'' Photo Size Laminating Pouches. They are specifically designed to be used without a laminator, but you can also use a cold setting on your machine to encapsulate materials that are sensitive to heat. These self-sealing pouches come with a 10mil thickness, for more durability, and a gloss finish that will make colors seem brighter and text sharper. Order a box today to discover the best way of laminating photos quickly, easily, and at a great price.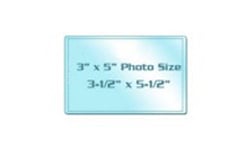 There are no products matching the selection.